Mimi Moriarty

MIMI MORIARTY
CROWS
CALLING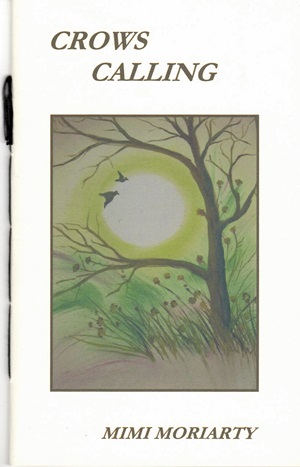 From the book:
Unfinished Hymn
I take a walk on a road
the sun barely risen
cows lounging on fields
twin gravestones flat slabs
with old dates
A few cars straddle the center line
as they pass, the haze settles
into its hot collar, birds worthy
of their wings while I am prone
to gravity
Just a pillow between me
and this slice of morning,
just a leaf or a wedge of bread
the kiss I remember from
last November
when turpentine and drill bits
were stowed away, the tires
changed, and gloves found,
nothing like the kiss in summer
full of orange zest.
This is Everest, this is Eden,
this road of languid mooing
and birds maneuvering, it is they
who take credit for sunrise
and soft voices
I am nothing more than witness
to this holy Shul, this temple
of sickle and silo, as I ramble
down an unfamiliar road
listening.
Unfinished hymn this morning
the frogs in the pond
the dogs off their leash
a passerby waving
Amen! Amen!
Poet's Statement:
As I revisit these poems, I am struck by the physical loss and the spiritual longing that holds this collection together. Even in the poems that might be deemed lighter fare, there is a serious note underlying them. It was not my intention in the beginning to gather these poems as such, but as I attempted to look at the manuscript with an objective eye, that is what I noticed. I hope that the readers of this chapbook will bring their own objective eye, discover themes that reverberate their own condition, and feel that they, too, could have written these poems. What a great compliment that would be to this composer of many "unfinished hymns."
Mimi Moriarty is the poetry editor for The Spotlight, a local weekly newspaper. Her short fiction, poems, essays and articles have been published in many journals, magazines and newspapers, including Margie, Alehouse, SLAB, Thema, Rockhurst Review, Connecticut Review, Peregrine and Irish America. She has two chapbooks published by Finishing Line Press: War Psalm, which came out in 2007, and Sibling Reverie, co-authored with her brother, Frank Desiderio, out in early spring of 2012.
She lives in a log home on an escarpment overlooking the Hudson Valley with her husband, Dan, and delights in her four grandchildren who regularly visit. Her next project is to teach them to make pizza dough just like her grandmother's.
CROWS CALLING is a 40 page hand-stitched chapbook. $10.00
TO ORDER ON-LINE
From the US
From Canada
From Other Countries