I Was Indian II Anthology

I WAS INDIAN
AN ANTHOLOGY OF
NATIVE LITERATURE
VOLUME II
Edited by Susan Deer Cloud
AN ANTHOLOGY OF
NATIVE LITERATURE
VOLUME I)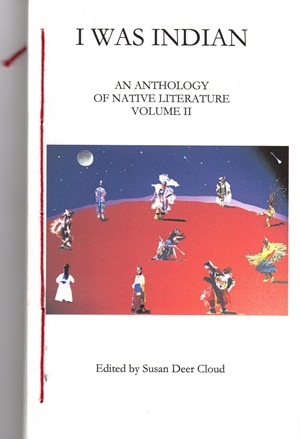 TABLE OF CONTENTS
Introduction Susan Deer Cloud 8
Michael Bucher
Don't Forget About Me 11
Sacred Ground 12
You Are Not Alone 13
Mihku Paul
Amerindia 15
Solstice 16
Undertow 17
Bright Colors from the Earth and Sky 18
Stephanie Elliott
Aviatrix Meets Defense Contractor 19
Crow Contemplates Humans 20
The Root Cellar 21
Cheryl Savageau
Poison in the Pond 22
Graduate School First Semester:
So Here I Am Writing About Indians Again 25
Pemigewasset 30
William S. Yellow Robe, Jr.
Spam Rant of Identity - Spam is Not Just Spam 32
Black Bear
Seduction 34
Memories of My Father 36
Joseph Riggs
I Never Knew 37
Dawn Horse 38
These Rolling Hills Are Home 39
Warming 40
Juan Miguel Herrera
I Am Huichol 41
Guadalajara 43
You May Be Indigenous If . . . 44
Francisco X. Alarcón
Mestizo 45
Singing Sharks Taking in the Night 47
Dave Brinks
Walking the Levee 50
Shrine of Dawn 51
The Susurrus of the Branches 53
Jimmy Santiago Baca
Breaking Bread with the Darkness:
from Essai Poems 54
from Lucia Poems 57
Kim Shuck
Unknown 59
Any Small Discovery 61
Part Time City 62
Incantations 63
Denise Low
Pocahontas: a Portrait 64
After the Genocide 65
Walking with My Delaware Grandfather 67
Ron Welburn
Before the Northway 69
Analog to Ancestry 70
Treaty Marks 71
Diane Way
Cast Party 72
Requiem for a Love Flute 74
For My Child 76
Sara Littlecrow-Russell
Why I'm Always Broke 77
To the Old Pine Tree Outside My Office 78
Love Like an Old Woodstove 78
Hot Ashes 79
Lance Henson
At the Military Cemetery Hamm in Luxembourg 80
Raven Poems 81
Silent Exile Where You Whispered to Me
to Remember You 82
See How the Rain 83
Anecia Tretikoff O'Carroll
My Blood's Home 84
Grandmother, When You Passed 86
Trace A. DeMeyer
A Swallow Manifesto 87
Heart-Shaped Ass 88
Earth's Funeral 91
Ralph Salisbury
At Play in the Earth of Uncle Jimmy's Grave 92
Living in the Mouth 92
Wisewolf Salttown, in Dream and in Love 93
Joyce White Deer-Vincent
For the Young Ones 95
No More Bruises 97
MariJo Moore
Does It Hurt When the Spider Spins Her Web? 98
How Madwomen Survive 99
Monty Cambell, Jr.
Three Months 100
Almost Ran Over 101
Supermarket 102
Paul Hapenny
Snowdrift 104
Four Songs I've Heard 108
Susan Deer Cloud
Elm Hollow Road 110
Quiet Little Poem 112
Uphill 113
Place of Blue Smoke 115
Happy Man 116
I WAS INDIAN II is a 124 page hand-stitched paper book with spine. $16.00
TO ORDER ON-LINE
From the US
From Canada
From Other Countries

**************************************
I WAS INDIAN
(before being Indian was cool)
AN ANTHOLOGY OF
NATIVE LITERATURE
VOLUME I
Edited by Susan Deer Cloud
TABLE OF CONTENTS
I Was Indian - Introduction Susan Deer Cloud 9
Paul Hapenny
Halfbreed Boy 15
Reverie on the Southeast Expressway 17
The Indian Joke 19
Pain of Mystic 21
Monty Campbell
Rez Photos 22
Lamentation 23
On Ancient Land 24
Organic Turmoil 25
Warm Winter 26
Paula Gunn Allen
America the Beautiful V 27
A Trick of Light 28
Sayra Pinto-Wilson
The Story I Will Tell the Youngsters When I Am Old 29
Hiking With My Uncle Carlos 31
Charles Bane, Jr.
Widening 32
Lance Henson
All the Names 33
From Jordan 34
Crossing 35
A Sudden Dislocation & Passages 36
Here 37
Sarah Littlecrow-Russell
Storm Poems 38
Indian Child Support 39
I Do Not Know Your Name 40
Atlantic Bridge 41
Stephanie Elliot
Consider the Pinpoint of Entry 42
Chip Livingston
Coon Was Here, 1985 44
Crow Blue-Crow Black 46
Apalachee Tuscaloosa 47
Dave Brinks
In Stone Stelae, in Nebulae 48
The Ouroborous 49
John David Henson
Watching TV 50
Early Morning Storm 52
Learning to Let Go 53
Cedar Firesong Robideau
Firesong, Dark, Death 54
Barney Bush
Arrows 55
A June Wind Above Regina 57
Black Bear
Indian Man 59
Winter Stillness 60
Briget Truex
Song 61
nila northSun
Pale in the Desert 62
Poetic Phrases 63
Sandra Haley
Marvin's Funeral 64
Kim Shuck
Objects May Be Closer Than They Appear 65
Asani Charles
Indin Souljer Boy 67
J.P. Dancing Bear
A Brief Informal History 68
Diane Way
NDN Blues 69
Rick Kearns
Kill the Indian 72
Martin Esapada
Colibrí 74
All the People Who Are Now Red Trees 75
Charles Johnson
Piedras Negras 76
Ron Welburn
String Theory 77
Mohawk Memory (Schoharie County, N.Y.) 78
Every Morning Is a Season 79
James Autio
Nind Inaabandam/I Dream 80
Lemon Poppyseed 81
Ahimsa Timoteo Bodhrán
Hibernate 82
Eric Schwartz
New World 83
Gary Wilkens
Indian Recycler 84
82 MPH on the NY State Thruway 85
Jennifer Lemming
Quilting Circle 86
Kim Becker
Beloved Woman 87
Linda Hogan
Dimensions 88
Affinity: Mustang 90
Matthew C. Wolfe
On the Rez 92
O Great Spirit 94
Thomas Hubbard
Lakota Woman 96
This Morning's Blues 97
Vicenti Kurle Caljesuseso
Sweet T 98
DeLyssa Begay/Black Sheep Woman
Bear 99
Joe Bruchac
Wawanogit 101
Ghost Song 102
Rane Arroyo
No Burying Echoes 104
The Blue Lagoon (a Remake) 106
Latona Swan-Ena
Counting Coup 107
Alice M. Azure
Walking in the Rain 111
Tiffany Midge
Imagining Yes 112
A Song for Conjuring Shelter 113
Ray "Moose" Jackson
I Want to Make Love to You 114
Susan Deer Cloud
Horse 116
Sugar Daddy 117
Our Parallel Universe 118
From the book:
I WAS INDIAN INTRODUCTION - Susan Deer Cloud
Then all Indians
lived in country
my people in Catskills
where Indians
were "part Indian"
families extended
including boy cousins
too numerous to count
including wolf-eyed friends
also "part Indian"
All Indian kids
flung rocks burrs snakes
at non-Indian kids
dumb enough to wander
onto Indian territory
in my case School Street
no white girls dared wear
a snake necklace the way
an Indian girl dared to
every Indian child
got savaged by teachers
teaching Indians are savages
Little Indian rebels with a cause
got low grades if they spoke up
against so-called founding fathers
who stole Indian land made
Mother Earth their whipping girl
all the budding warriors' mothers
warned them not to tell outsiders
their dreams beautiful ways
lest they'd be caged as crazy
Long time ago
when all Indians
went berry picking
strawberries in June
blackberries in July
blueberries in August
beechnuts and apples in fall
boys men hunting fishing
wild meat for every meal
joking you are what you eat
All our wild boys
tongues tasting of fried trout
plump berries hard cider
the way third cousins tasted
when we bartered kisses
in high mountain meadows
when kisses howled forth
shadows of panthers
passenger pigeons
oh my lost wild heart
And continuing genocide
the ones who tried to shame us
called us dirty dumb
our untamed tenderness suspect
when all our mothers led us
to the rivers of summer
when our small bodies
wept into the waters
under mountain laurel slopes
when we let our salt grief
wash out to the seas of deepness
Breathing in then white pine
blue spruce firefly nights
when Indians stood up for Indians
no one carried an identity card
no one had to whisper
they hated the U.S. Government
no professors informed us
we were Native Americans
when America didn't hunger to be US
believed eastern Injuns were all dead
When we survivors gathered
beneath a Tree of Peace
but no one called it that
we had swallowed the garbage of exile
for too many centuries
we simply sang played together
cradled babies together
that was our powwow
no bumperstickers for sale
no I was Indian before being
Indian was cool to slap
on all our rusting Indian cars'
proud rear ends
only our dreamcatcher faces
refusing to vanish
LAMENTATION - Monty Campbell
Angel of light,
angel of simple alabaster,
gun breath or whiskey,
connect me to dirt,
let me find a brother
in this ancient,
sacred soil,
let the turtles wake
wash me upon an
unshrapneled shore,
take my simple cloth
and sew it to the
sky world
where an old woman's hands
would heal me to sleep,
make the stripes of an
unwanted father bleed on the
hands of a father forgotten,
let him awake,
let them all awake,
pound the drum until the
fire is blazing, until
every spirit stands
or dances.
AFFINITY: MUSTANG - Linda Hogan
Tonight after the sounds of day
have given way
she stands beneath the moon,
a gray rock shining.
She matches the land,
belonging.
She has a dark calm face,
her hooves like black stone
belong to the earth
the way it used to be,
long grasses
as grass followed rain
or wind laid down the plains of fall
or in winter now when
her fur changes and becomes snow
or her belly hair turns
the color of red water willows
at the creek,
her legs black as trees.
These horses
almost a shadow,
broken.
When we walk together
in the tall grasses, I feel her
as if I am walking with mystery,
with beauty and fierce powers,
as if for a while we are the same animal
and remember each other from before.
Or sometimes I sit on earth
and watch the wind blow her mane and tail
and the waves of dry grasses
all one way
and it calls to mind
how I've come such a long way
through time
to find her.
Some days I sing to her
remembering the Kiowa man
who sang to cover the screams
of their ponies killed by the Americans
the songs I know in my sleep.
Some nights, hearing her outside,
I think she is to the earth
what I am to her,
belonging.
Sometimes it seems as if we knew each other
from a time before our journeys here
In secret, I sing to her, the old songs
the ones I speak in my sleep.
But last night it was her infant that died
after the kinship and movement
of so many months
Tonight I sit on the straw
and watch as the milk streams from her nipples
to the ground. I clean her face.
I've come such a long way through time
to find her and
it is the first time
I have ever seen a horse cry.
Sing then, the wind says,
Sing.
I WAS INDIAN is a 128 page hand-stitched paper book with spine. $16.00
TO ORDER ON-LINE
From the US
From Canada
From Other Countries