Peggy Seely

Teacups in the Mud
Peggy Seely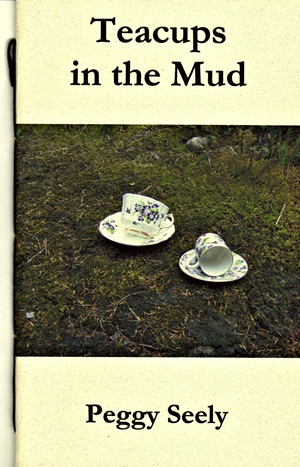 Author's Statement
After reading a novel featuring a young pioneer woman traveling westward with her husband, I imagined her deciding on what few belongings she could take along, how difficult the choice, how carefully she must have packed, how hopeful that these things would be her connection to all she was leaving behind. And how agonizing when some became burdens that had to be abandoned. My intent was to do an entire book based on journals of women like her.
Somewhere along the line, I recognized in my poetry a similarity of emotions. I thought how all of us make choices of what we will carry, in the form of memories, with us throughout life.
This collection reflects my realization that a lot of what we hold on to, for whatever reasons, is not worth its weight; that the sooner we lighten the load, the freer and more content we become.
From the book:
That Summer on the Farm
They called us kissin' cousins
and I didn't know what they meant.
That was before Bobby wanted
to show me something in the barn.
Bobby was a little older. He came up
with his folks from the city.
Our fathers were brothers.
Mine was the one who maintained a farm
was the best place for a kid to learn things.
Like how a field brown and still one day
turns into a thousand green fingers waving.
How a fuzzy yellow fluff-ball
becomes a black sharp-feathered thing
with a biting beak and a frightening squawk
that drops an egg
out of you won't believe where
and it becomes my breakfast.
I learned where my glass of milk really starts.
And pork chops.
That lesson made me cry.
I learned how to climb an apple tree
with a canvas sack tied on, then savor
later, the piece of pie
rich and steaming and juice-filled
my mom set before me.
And I learned how a merciless slam of hail
can wipe out the yearnings ignited
by the new Christmas catalog from Sears.
But the thing I can't forget the most
from that summer on the farm
was the lesson Bobby taught me
in the haystack
in the barn.
Peggy Seely has facilitated poetry workshops and was a contributing editor at Washout Review. Her poems have appeared in Connections, Washout Review, and Packrat. She experienced the fun of winning a poetry slam as well as local contests. Volunteering at The Bridge Center, she offered poetry as therapy. She has read at various venues, including Café Lena in Saratoga Springs, NY and Florida Porch Café in Leesburg, FL.
Her career path meandered like the country roads she loves; farm, factory and office jobs, bakery shop, interior decorating, and a decade at The Hartford in Connecticut.
Recently retired, she divides her time between The Villages, Florida, and a 1930s waterside cottage in the Finger Lakes region of New York. Born a long time ago in Pennsylvania, she says the green and rolling hills of the Northeast will always be "home."
Teacups in the Mud
is a 40 page hand-sewn chapbook - $10.00.

TO ORDER:
From the US
From Canada
From Other Countries