Sayra Pinto

Sayra Pinto
Vatolandia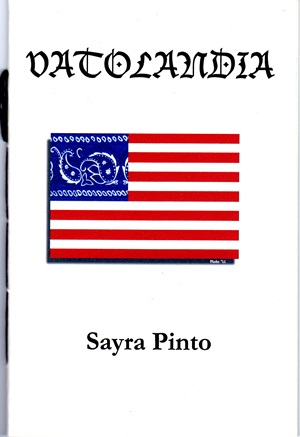 Re-Matriation

Chapbook Series of Indigenous Poetry

#5
Susan Deer Cloud, Editor
"Do you want to be burned up? Do you want to be cooled? Do you want to lie down on the edge of something and never get up again? Do you want to live a different life? Do you want to get up and start walking, start singing, start dreaming in a community of radical others? Then read these poems."
Bhanu Kapil
This book is the end result of a journey that began when I got off the plane in New Orleans in 1985 and became an immigrant, a Central American, and a person of color all at the same time. Later, I became "La Mera Mera" (the Real Deal) to my boys. They called me that because my heart holds them tenderly, as all human beings should be held. This is for them, so they do not continue to face this topography alone.
Sayra Pinto
From the introduction by Susan Deer Cloud:
Vatolandia unfolds in an arc of underlying myth reaching back to Popol Vuh, the Mayan creation story, ascending then bending down into the story of indigenous peoples since the conquistadors' invasion of the Maya all the way to those dreamers who run and swim across night borders to what some call the United States. Many of the poems are persona poems in the voices of the descendents of long ago beauty and happiness. Those voices embroider the pages as vividly as the embroidering I've seen on Mayan vests and blouses.
From the book:
The Cosmic Race
Just when you think your life does not matter, think again.
We are a rising sea of souls
borne into this world by the unspeakable
choices of women
and the endless strain on the backs of our men.
When you believe that you are nothing,
have nothing,
can do nothing,
take another look.
Our leaders are hiding in third floor apartments
birthing babies:
cementing the mandates of our lives.
They are changing the face of this land
to the one it used to have.
We will win the future.
Sayra Pinto lives in Bethesda, Maryland, with her partner, triplet girls, and two girl dogs. She has a B.A. from Middlebury College, an M.F.A. from Goddard College, and is currently a Ph.D. student at Union Institute & University. Her poetry was included in the indigenous poets anthology I was Indian (FootHills Publishing, 2009) and her new book, Pinol : Poems, is forthcoming from Shabda Press.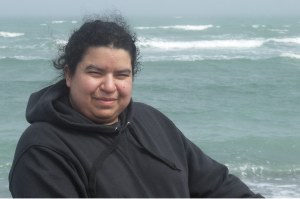 Vatolandia

is a 40 page hand-sewn chapbook - $10.00.

TO ORDER:
From the US
From Canada
From Other Countries