Edward Dougherty

Edward A. Dougherty
Backyard Passages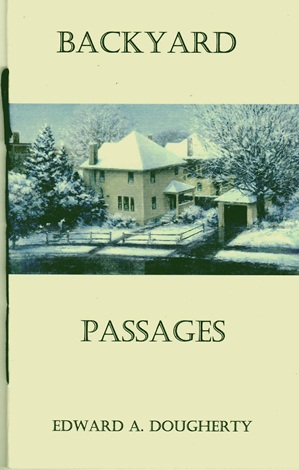 (Release date 12-21-11)
From the book:
From "Chicory Flower Song"
I lay my body down in a bed of cricketsong
and rise again to mist in the crowtrees.
The spirit's a vessel where light never bottoms,
where we pour in the glass beads
of our daily dreams, our countless endeavors,
each smaller than the last until talc-fine sand
fills in and openings yet exist
where the undiscovered moves.
What I know slips a gap-toothed gear.
What I know of God couldn't illuminate
a cicada's wing. Still, I write these notes
to leave in the rain. I've been loved,
often extravagantly, and the wire of it
hums all the answer I seek. From the pulpit
with Om carved into its fragrant wood,
love's the only Gospel proclaimed.
Concelebratory, vibrations of being
fuse body and spirit, voice and will,
past and future
word and silence and now
this reading
our vast text.
Edward A. Dougherty lives and works in Corning, NY, and is the author of Pilgrimage to a Gingko Tree (2008 WordTech) and Part Darkness, Part Breath (2008 Plain View) as well as four other chapbooks of poetry, most recently The Luminous House (2007 Finishing Line). Exercises for Poets: Double Bloom, co-authored with Scott Minar, is a collection of exercises for classes or writing groups. He was given the SUNY Chancellor's Award for Excellence in Scholarship and Creative Activities.
Cover artist David Higgins is a native of Binghamton and attended Louisiana State University. He has been teaching art at Corning Community College since 1991.
Backyard Passages

is a 28 page hand-sewn chapbook - $10.00.

TO ORDER:
From the US
From Canada
From Other Countries