Karey Solomon
Karey Solomon
Voices like the
sound of water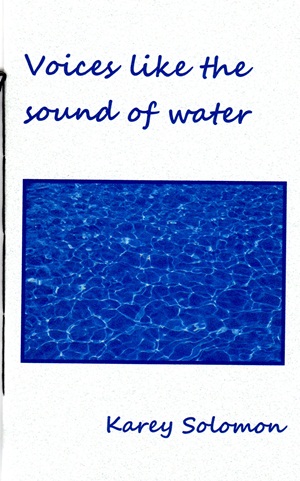 From the book:
Abundance
We found a bone-yard at the water's edge
bleached phantom limbs of trees
last season's ghosts from last year's inland sea
We heard the waves truckling into shore
echoes of three seasons back
when faith, like mist rising from the lake at dawn
could swing the balance from distrust to hope
Then we were night-swimmers, muffling laughter
in water smelling of picnics and gasoline
There's the very place we lay among flat stones
and found the heart-shaped smaller ones
to skim across the water at sunset
water-polished and returned to shore
We find them now and skip them out again
they disappear when stared-at.
Now sycamores' stark fingers reach
in empty-handed resurrection
The world spins dizzy, faceted by blue
I have no fuel for going on, you said.
The winter's been too long
My answer stumbles like my feet
caught between certainty and hesitation
We could use the litter on the shore
Chunks for firewood, sticks to prop my steps
We burn.
Karey Solomon grew up in New York City and exchanged the urban life for a rural one as soon as she graduated college. To get time to write, she's worked at a variety of full and part-time jobs - as many as eight simultaneously - from bartending to editor at a daily newspaper. She currently works as a free-lance writer for several newspapers and journals. She also is a designer of lace with more than 20 published design collections and has taught her patterns and techniques internationally. Her poems and short stories have appeared in numerous journals and anthologies.
Voices like the sound of water is a 36 page hand-stitched chapbook - $10.00.
TO ORDER Voices like the sound of water
From the US
From Canada
From Other Countries