Bill Lavender
A FIELD GUIDE TO
TREES
Bill Lavender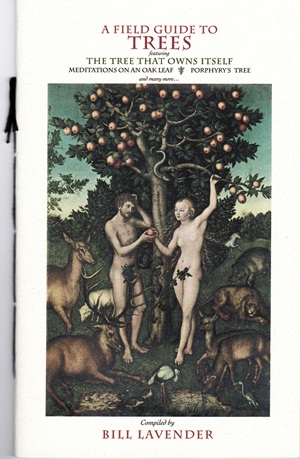 From the book:
Meditations on an Oak Leaf
When the tree sheds
its leaves in the fall
the limbs begin
to resemble the root
thus also
the man in his autumn
on this branch
ferns are growing
on this one
an entire forest
Bill Lavender is a poet, editor, and teacher living in New Orleans. He is the publisher of Lavender Ink, a small press devoted to contemporary poetry, and he is Managing Editor of UNO Press at the University of New Orleans. His poems have appeared in dozens of print and web journals and anthologies, and his essays and theoretical writings have been published in Contemporary Literature and Poetics Today, among others.
A FIELD GUIDE TO TREES is a 36 page hand-stitched chapbook - $10.00
TO ORDER ON-LINE
From the US
From Canada
From Other Countries