Paul Hapenny
KESPUKWITK:
LAND'S END POEMS
Paul Hapenny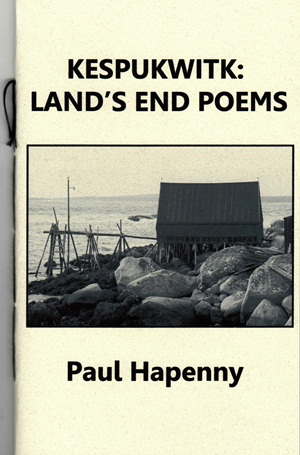 Re-Matriation
Chapbook Series of Indigenous Poetry
#1
Susan Deer Cloud, Editor
From the Introduction:
Kespukwitk: Land's End Poems is certainly an apt title for a book powerfully reflective of current Indian reality (if not surreality) following upon five centuries of physical and cultural genocide against Native peoples. Hapenny's poems echo our musical and metaphorical indigenous languages, what Mohawk Chief Tom Porter calls "language in 3-D." The poems resonate with myriad aspects of existence Indian-style, embodying the clash between our old manner of living and current confused dealings with the frenetic, loud, capitalist, urban life. How many of us have found ourselves at land's end, forced to the brink of oceanic desolation and riptides of suicidal thoughts? We Turtle Island people have the highest suicide rate in this country re-named the United States; on the reservations chain suicides increasingly occur among young people. Kespukwitk addresses that despair.
Paul Hapenny's poems burn fiercely indigenous in that they are earth-rooted, especially in Nova Scotia where part of his family comes from. In a contemporary world filled with more and more urban Indians, this poet writes about land and sea, hunting, fishing, and trapping. He knows that world well, conveys it with no sentimentality, yet simultaneously expresses a profound love for the bloody, perilous beauty of the untamed places. Juxtaposed against that world is the new world of cities, prostitutes, alcohol, depression, mania, "fast food" sex, and, yes, even love, but love marred by centuries of violence and given over to fear and distrust. The chapbook serves as a testament to this Métis writer's brilliance, that way he bears witness to the harshness of many Native people's lives yet even so makes the reader feel with him an enduring love for indigenous outcasts and the land's end they struggle to regain their balance on.
And so I invite any reader to enter into Kespukwitk: Land's End Poems, to follow its trail of fiery truth-telling and brave refusal to bow to easy stereotypes and betrayals of us. If you think that we have no Indian warriors left, think again. Paul Hapenny stands as a word warrior and latter day brave whose proud tough brilliance exists as a shield for his people. Nia:wen, Paul. Your words keep us from vanishing and bring our stolen hearts home.
Susan Deer Cloud, 9.14.10
From the book:
SNOWDRIFT
I'm 55.
It's 2:17
a winter morning.
Rum bottle's 2/3 shot
drifting snow's
3 inches deep
on the windowsill
Maybe 3 ½
Drifting
Blowing and drifting snow
Drifting
Snow around my knees
Clotting on my eyelashes
I'm in the teeth of it
Running my rabbit line
northeast from Five River Lake
through the hardhack and scrub alder barrens
to Lake Harper
Got two rabbits in my poke
bobcat took a third
Got a wife at home
baby at her nipple
Got soaked mittens
holding my Browning 20 gauge
Got few prospects
and less stamina
Drifting
There's a red spruce
bark chewed by a porcupine
maybe he's denned up in
that moraine jumble
maybe there's shelter
maybe I'll…
maybe
Frozen hands hack
at a hatmatack branch
I need a club
I'm around the moraine
Shivering, looking for a seam
a hole, salvation
A crawl space
porcupine shit
I shove the club
in ahead of me
Teeth chatter
his, mine
He rolls toward me
quill barbs out
the nor'east wind rips
through my jeans
needles of ice rend my legs
Him or me
I jab him with the club
spin him around
slam the club between his eyes
once
twice
he rolls on his side
twitches
and dies.
I crawl in
through the porcupine shit
use the club
to roll him on his back
I slice open his quill less belly
and shove my ice burned hands
into his steaming guts
The wind screams
my name
My hands scream
in pain
Porcupine's
dead quiet
And my teeth
chatter
Blowing drifting snow
Drifting.
Morning light
shakes me
through closed eyes
Hands unchilled
dripping
thick warm blood
I push out
beautiful
peaceful
life floods back
I skin out the porcupine for boiling
and head out south southeast for home
Shoot two partridges with the Browning
All in all a good hunt
All in all…in all…I won
Home, I sit by the wood stove
watching the wife work up a stew
baby's crawling on the floor
I'm having ginger tea with a shot
Dried birch snaps in the firebox
And I'm drifting
I'm 55
It's 5:24
a winter's morning
Rum bottle's just a smell
drifting snow's
6 inches deep
on the windowsill
maybe 6 1/2
Drifting
Wife took off to Ontario
Kid knocked around
Came back east
and had one of his own
Baby Brother stole the Browning
on his one way trip
down the cocaine highway
And I'm a used up halfbreed
sitting in a city
no woods around
just drifting
blowing snow
Drifting
Paul Hapenny is the writer of seven plays. The multi award winning "Vig," "Sacrament" and "Vignettes From a Masculine Tableau" have been produced both in the US and internationally. The author of 12 screenplays, including "Vig" and "DownCity," Paul has written for Paramount Pictures, Warner Brothers Pictures and LionsGate Films among others. Of both First Nations and White Ancestry, he is a proud member of the "SouWest Nova Metis Council."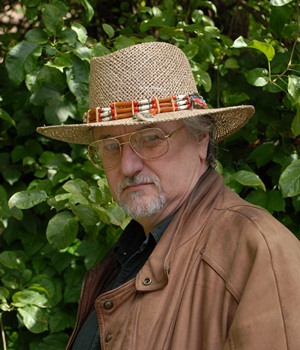 KESPUKWITK: LAND'S END POEMS
is a 40 page hand-stitched chapbook - $10.00
TO ORDER ON-LINE
From the US
From Canada
From Other Countries