David E. Thomas

WATERWORKS HILL
David E. Thomas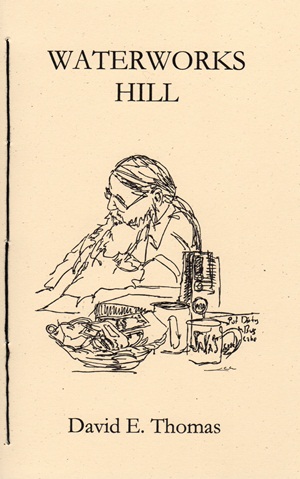 Montana Poets Series #5
Craig Czury, Editor
With confident voice; concise and powerful lines, and a keen mind, the writings of David Thomas toil in the places where many contemporary American writers aren't skilled or experienced enough to venture. Thomas excavates the foundations for his writing where the nature writer and working class poet overlap. He fixes hard earned observations upon person or place, event or season, and applies his honed craft, staying until the job is well done.
With his latest collection, Waterworks Hill, we find a truly powerful sampling of one of America's premier writers. His mind picks up sandy WPA bricks, bleak boxcars, or Murphy's Lounge and builds them anew. Whether riding the Ecuadorian Railway or passing through the snowy mist in Hellgate Canyon, his vision is wide, encompassing, and invites us all to come along. Thomas watches where wind and water write on stone. See for yourself.
James Jay, author of The Journeymen
Dave Thomas, like his old visual artist friend, the late Jay Rummel, is a Montana original, a gift from the Hi-line to us refugees down in Missoula. His poems create intimacy with all things without being sentimental. He's in love with the grime and sweat of work done out doors amidst the beauty of rivers and a small pine growing in the shade, or being stuck at the dump; his sense of social justice is pricked by his travels into Latin America; his respect of and honor for his parents and family are the expression of the true rebel; his grief for lost friends and lovers contains the "silence / of chokecherries/ and talus." He easily reminds us of an older, truer Montana alive in these sure-footed, hard-earned poems. It's Saturday, and he's not on anybody's clock. He'll take you there."
Roger Dunsmore, Author of You're Just Dirt
Dave Thomas invites you to lace up your boots, clean your glasses, and walk with him. Don't miss this opportunity. You'll work, drink, travel, and mourn-observe and celebrate the "moments" in life. He is the blue-collared Zen master of the clear-eyed spare-form. Dave's simple poems are simply as good as poetry gets. They chronicle the daily joys and mysteries of this brief trip we're all on.
Mark Gibbons, author of blue horizon
From the Preface:
Waterworks Hill is the chronicle of a man who is simply walking around with a camera obscura in his gut, the anxious trampling / of buffalo in his heart / of time murmurs secrets / in unknown ears, having learned the lessons taught from the moon.
Craig Czury, Editor, Montana Poets Series
Reading, Pa.
10/10/10
From the book:
ANOTHER WEEK AT HOPE
Slowly, slowly they all come
back
the weekend red
in their eyes
the gandies return
from girlfriends
families and solitary drunks
to bleak
boxcars and Murphy's
Lounge
the classic calendar shot
of Marilyn Monroe
above jukebox
cranking out country
sadness
still only
a nickel a tune
stock wisecracks posted
on the walls
Murph hardly ever talks
takes your quarter
for a glass of beer
shuffles to the next room
a fishin' license
or an ice cream cone
then back
for a game of pool
slowly, slowly they come on in
the scent of high pine
and fir drifts over the evening
lake
a wild tingle
in the cheap beer
before Monday morning
and five more days'
railroad sweat and grime.
WRITING ON STONE
The writing here
done
mostly
by wind
and water
a message of time
etched
into sandstone
images
to challenge
a wandering mind
the Blackfeet
found these places
sacred
these stories
of rock
and glacial
carving
draw heartbeats
into their shadows
late spring
the Milk muddy
and still
high
but higher
not long ago
wildflowers
in bloom
and leaves every
shade
of green
this breeze
full of spirit
and mid-day
sun.
(for Frank and Max)
David E. Thomas grew up on the Hi-Line in North-central Montana. He graduated from the University of Montana then found himself on the streets of San Francisco where he began his literary education. Economic realities drove him to work on railroad gangs, big construction projects like Libby Dam and other labor intensive jobs. He has traveled in the United States, Mexico and Central America. He has published three books of poems, Fossil Fuel, Buck's Last Wreck and The Hellgate Wind and has poems in the anthologies The Last Best Place and Poems Across The Big Sky and most recently New Poets of the American West. He currently lives in Missoula, Montana.
Waterworks Hill is a 72 page hand-stitched paper book with spine - $16.00
TO ORDER ON-LINE
From the US
From Canada
From Other Countries