Cedar Brant

Like Any Other
Dream Will Do
Cedar Brant

Montana Poets Series #4
Craig Czury, Editor
In Like Any Other Dream Will Do, the landscape of Montana is rife with loss and longing but also with a groundstrength of memory that nourishes each season, each seed in this lost world. Brant's gaze is steady, her love for the land and the dream, undying.
~ Paola Corso, author of Death by Renaissance
Cedar Brant is a natural, is quite simply the most gifted young poet I've had the good fortune to work with in my forty-seven years teaching writing and literature in Montana. Her big-hearted poems are saturated with soil and plants, waters and hills, birds, wolves and bison, the powerful emotions of lost love, and family. It is the trueness of her voice that carries all this straight to the center of our deeper selves. Don't miss this first book by a young poet to whom we will need to turn in the coming years.
~ Roger Dunsmore, author of You're Just Dirt and
Earth's Mind: Essays in Native Literature
Cedar Brant's language has the natural cadence of footfalls on a trail -- one that carries you along through fresh, strong, never-tamed country with your eyes open wide and your mind floating free. Pack a copy and just go.
~ Douglas H. Chadwick, author of
The Wolverine Way
From the Preface:
Like Any Other Dream Will Do is the threshold over which Cedar's poems echo the stories we take into our quiet bodies / the moment of our conception. Each line clears a trail under tree bark, like the ancient tunnel-writing of insects. Here the giant bodies / of salmon bend / over submerged limbs / are washed up on our banks / with the silt. Smoke / circling / wider now in the cadence of crickets
Craig Czury, Editor, Montana Poets Series
Reading, Pa.
10/1/10
From the book:
Raven Ash

Above me a raven is clucking
in the dry heat
rubbing two stones of sound
under her glossy throat.
It is the sound of contentment
an affirmation to these smoky hills
that it has always been this way.
It is not a harsh sound:
two bamboo stalks in a breeze
two full water jugs jostled together.
A round wet sound.
Yellow grasses dry to the cadence of crickets,
biscuit root long gone to seed.
Across the valley three red tails circle
and disappear into distance and smoke.
Fire moves once again
mountains shouldering your smoke
calm hot valleys
cows crowd in small pools of shade.
We know you,
fire
feel you near in your spangled black river.
Raven
she is your black winged body.
Look Back

You emerge from the green shadows
yellow awns of your body,
and still the same spit in your mouth.
Nothing has changed
since our october youth
shook unbounded wool
and hot skin
a candle by your bed
the night I first pulled you naked.
What did we prove in that all night kiss
bucket seat of your old truck?
It is true
I have never known how to navigate
your need of something big
huge, greater than me
tunneled through my body
to you.
What is proven by
sunset pulling over
way out in the prairie
to take you in my mouth
the long drive over the divide
to pull over just in time to save us, again.
Now that crease of missing.
How do we pry beneath the floor boards
and navigate the black widowed sump
the narrows we built
with no proof
of anything?
Cedar Brant was born in a barn in northwest Montana. She spent her youth fascinated by wolves. This intrigue propelled her into biology, and a love affair with the land and culture of the rural west. For the past ten years, she has worked from Yellowstone to the empty valleys of Nevada, Oregon and Montana as a botanist and field biologist. She spends her summers living in a trailer in various rolling grasslands, counting and keying out plants, and honing her four-wheeling skills.

Her poetry and essays have appeared in Camas, and Poems Across the Big Sky. In 2007, she and several other Montana writers formed the traveling poetry troupe Bentgrass, who tour the state performing poetry and music, and hosting writing workshops. In 2008 they received a grant from Humanities Montana for their "On East" tour to the small ranching towns of eastern Montana where, among other honors, they were invited to tour a longhorn cattle operation, stay the night at the mayor's house, and attend northeastern Montana's "Schmeckfest", a Mennonite sausage eating party. They have self-published two volumes of poetry, Windfall Season (2007) and Night Corn (2010). She unpacks her bags in Missoula.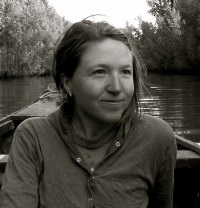 Like Any Other Dream Will Do is a 68 page hand-stitched paper book with spine - $16.00
TO ORDER ON-LINE
From the US
From Canada
From Other Countries