Jennifer Greene

What Lasts

Jennifer Greene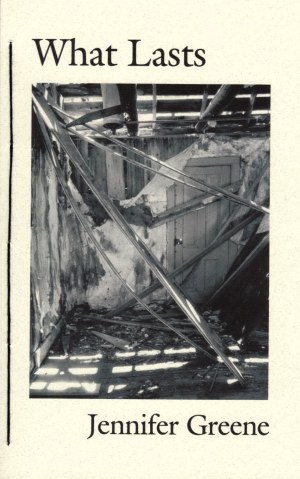 Montana Poets Series #2
Craig Czury, Editor
Jennifer Greene was the recipient of the 2010 MENADA Literary Prize at Ditët e Naimet, the Albanian Poetry Festival, in Macedonia, Oct. 22-23.
Jennifer Greene's poems embrace you and pull you in to her world. The mundane and miraculous moments of living are both experienced as sacred and magic. Through the intimate stories of being a sister, a daughter, a mother and a lover, Jennifer shows us the meaning of our daily lives. Sometimes it is terrible and often it is wonderful. Always it is reverent. Because there is always more to Jennifer's story. With a telling of a season, a stop at a gas station, or a conversation in a grocery store, Jennifer says to us that she is the sum of all of the stories of her relatives and ancestors and an old tribal world.
Julie Cajune,
Salish, award-winning educator and named
by the Utne Reader as one of 50 visionaries
who are changing the world.
Jennifer Greene's collection of poems What Lasts is a remarkable journey. Her voice lights the still room, quiet and beautiful, but she also reveals a blazing glory through a grand vision. Her voice chases darkness.
Debra Magpie Earling
author of Perma Red.
What Lasts is a delicately evoked constellation of poems that will definitely become a part of what is enduring for any reader lucky enough to journey through Jennifer Greene's book. This remarkable Salish writer has created a unique breed of memoir, one woven with the dream threads of poetry, a word labyrinth of personal stories, deep history and vaster mystery. These poems are of a quiet bravery and haiku-like surprise after surprise. I am lastingly grateful for their beauty.
Susan Deer Cloud
author of The Last Ceremony and editor of I Was Indian.
From the Preface:
Jennifer Greene is a sxwqyim-one tasked to write. She'll tell you she is a cinnamon-colored dog in the moonlight / standing next to a barbed wire fence howling / at the noise of a freight train. She'll tell you she's the noise of a woodpecker tapping against / a wooden plank on a house while the people / inside read newspapers and put socks on.
What Lasts is a song for her ancestors to see her in her dreams. An epic poem, navigating the heroic everyday survivals of a woman who washes graveyard dirt off her daughter's feet in the tub, dips her son's feet into the same ocean off the / shores where Wampanoag men once made arrowheads. A slow meander through dusty pawn shops. Linear narratives of flashback and fast forward, not knowing which parts of her history surface in her laugh or / surface in her nightmares or surface in her fists. Salish hymns, cigarette smoke, stew with / deer meat, black coffee in Styrofoam cups.
Songs you'll learn from these stones and this sky.
Craig Czury, Editor, Montana Poets Series
Reading, Pa.
4/5/10
From the book:
Blessings

No shoes are too beautiful for your feet.
No coat is too fine for your back.
No song is too beautiful for your voice to sing it.
What songs will you learn from the stones and the sky?
Related
When I lived in New Mexico, the dark brown arms
of a man at the grocery store reached back
and forth and dropped coins in my hands at the cash register.
I stood in line with my bags of tomatoes and bananas. He
said, "Do I know you?" I thought, "Yes, maybe." Maybe the
blood in your fingers came from someone in Mexico who never
spoke Spanish. Maybe your blood came from someone who
fought conquistadors with bare hands. Maybe we have
ancestors who traded blue feathers for brown feathers.
Maybe our ancestors traded stories or touched hands or mouths.
We are both the survivors of survivors, and we are still here.
I have ancestors who only dreamed in Salish words, and I do not see
them in my dreams. Or maybe I do, but I don't recognize what
I can't understand. I've had animal dreams and birds nearly fly
into my head, and I wonder does this mean anything, something?
I don't know which parts of my history surface in my laugh or
surface in my nightmares or surface in my fists. I never know what is
truly mine. I have an ancestor from Scotland. I don't know
if any piece of him has ever risen to the surface of my consciousness.
One of my ancestors, named Sack Woman, learned how to deliver
babies from a dream. She became a midwife who guided babies into
the world with her bare hands. One day, my four-year-old son James
asked me where he lived when I was a little girl. I said he lived in my
dreams, and we have always been together, and I have always loved
him. Maybe we all once lived in somebody's dreams, and we have
always been together.
Jennifer Greene lives on the Flathead Reservation in Montana where she was born and raised. Her book of poetry entitled What I Keep was the winner of the 1998 North American Native Authors Poetry Award. She's won first-place awards from the Native American Journalists Association for feature writing. Her writing appeared on a CD entitled Heart of the Bitterroot: Voices of Salish and Pend d'Orielle Women which was nominated for a Native American Music Award in 2008. Jennifer is Salish and Chippewa-Cree and a member of the Confederated Salish & Kootenai Tribes. She's married and has three children. Jennifer teaches, works on history projects, and writes.
What Lasts

is an 80 page hand-stitched paper book with spine - $16.00
TO ORDER ON-LINE
From the US
From Canada
From Other Countries