Jeffrey M. Bernstein

Jeffrey M. Bernstein

Interior Music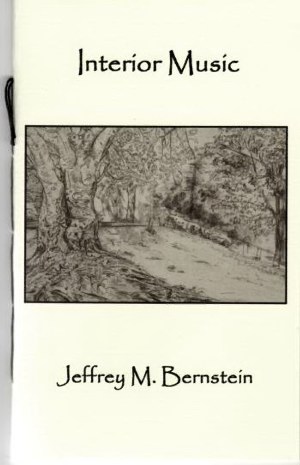 "Interior Music" includes some of my favorite, mostly narrative, poems about the best storyteller and kindest person I have ever had the privilege of knowing. My father taught by example, and I learned all of the lessons I will ever need from him. The poems in the chapbook, among other things, attempt to distill his plain-spoken teachings as I heard and lived them.
One of his central maxims was the importance of loving oneself. He told my two siblings and me repeatedly that you couldn't love another person or take care of others unless you felt good about yourself first. While I know he loved himself and he certainly loved his family, friends and patients, he was at the same time so modest and unassuming that he'd insist he was just doing what he had to do and deserved no special credit. A few weeks before he died I was driving him to a radiation appointment and he asked me why I looked so concerned, so worried. "It doesn't have anything to do with me, does it?" "You think?" I replied. "You don't need to worry about me -- you really should be in your office this morning," he said -- vintage Dad, even in the darkest of times to put someone else first.
Among his favorite writers was John Updike, who wrote:
Be with me, words, a little longer; you
have given me my quitclaim in the sun,
sealed shut my adolescent wounds, made light
of grownup troubles, turned to my advantage
what in most lives would be pure deficit,
and formed, of those I loved, more solid ghosts.
My father taught those fortunate enough to know him about love, although he probably would not have described it that way. "Interior Music" attempts to make a few words do just that.
From the book:
Today Down in Front of the Mailbox
Watching out the window
of my second-story study,
I imagine my father on the road,
walking slowly, head tilted left,
listening to his interior classical music.
He is studying, studying, measuring
the white birches that frame
expanses of the milky snow.
Witching Hours and Other Stories
My father never really minded
when you woke him in the middle
of the night, bad dream, glass of water, mosquito
in the room, whatever. Oh, by third or fourth
time, just a hint, a tint of fatigue
might creep into his voice. Maybe it was all
those times phone yawping at 2 a.m,
getting called (that's how it was known
then, getting called, not getting paged,
not getting beeped) by sick patients
who needed a house call made him more
understanding. Or maybe he just understood.
When I split open my chin at six,
that's how I thought of it, splitting open
my chin, falling out of bed in the middle
of the night, he took me to his friend
Chester the surgeon's to sew it up. That scar
is still there under my beard.
What impressed me most, that drive,
was that stoplights don't go red after 12 a.m.,
only whisper yellow, say "shh, shh,"
some waves hitting the beach
beyond the dunes, don't go back to sleep.
A lifelong New Englander, Jeff Bernstein divides his time between Boston and Central Vermont. Except on summer days when his beloved Red Sox are at Fenway Park, he finds back roads increasingly preferable to the city. Recent poems have appeared in The Aurorean, Avocet, bear creek haiku, Boston Literary Magazine, The Burlington Poetry Journal, Clark Street Review, Concise Delight, Iodine Poetry Journal, Oak Bend Review and Stone's Throw Magazine. His poem "A Short Guide to the Proper Treatment of Maryland Blue Crabs" was a semi-finalist in the Naugatuck River Review 2010 Narrative Poetry Contest and published in that journal.
Poetry is his favorite and earliest art form (he can't draw a bit or hold a tune), and he began to write seriously again about four years ago after a long hiatus raising a family with his wife Stacey and building a renewable energy and environmental law practice across New England. He is proudest of the creative and intellectual accomplishments of his wife and his two children, Ben, 21 and Ally, 19.
Interior Music

is a 36 page hand-stitched chapbook - $10.00
TO ORDER ON-LINE
From the US
From Canada
From Other Countries