Elizabeth Bodien

Elizabeth Bodien

Rough Terrain

Notes of an Undutiful Daughter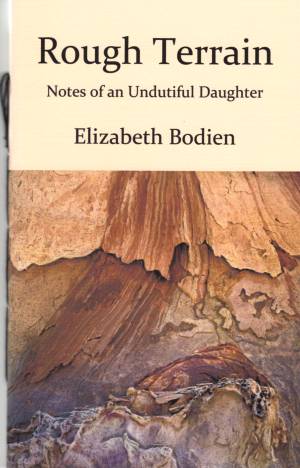 From the book:
your voice
so gravelly
this morning
what rough roads
did you travel in your sleep?
Duty

Asleep, she is quiet,
slumped without moving
on her old stained couch
like the husks of cicadas
littering her porch.
I cannot say it, cannot
say the word aloud.
I do not know what love is.
Love is something else.
This is duty.
Elizabeth Bodien lives with her husband in the Ontelaunee River watershed near Hawk Mountain in Kempton, Pennsylvania. She taught cultural anthropology and critical thinking at Northampton Community College in Bethlehem, Pennsylvania until 2007. Now she is rediscovering her love of poetry, its mysteries and music.
Her early studies focused on cultural anthropology, consciousness studies, and the history and phenomenology of religion. Living in Berkeley in the 1960s, she graduated from the University of California and then lived in Japan where she studied Japanese calligraphy with a sensei near Nara. Her graduate degrees are from John F. Kennedy University and the Graduate Theological Union. She has also worked as an instructor of English in Japan, an organic farmer in the mountains of Oregon, childbirth instructor in West Africa, calligrapher, graphic designer, and a Montessori teacher.
Her poems appear in Ruah, red lights, The Litchfield Review, Fledgling Rag, bottle rockets, The Fourth River, Watershed, Frogpond, AMAZE, Wisteria, Schuylkill Valley Review, Cimarron Review, among others. Her poems have won prizes, such as first prizes at the Pennsylvania Writers Conference (2004) and the Write Stuff Conference (2008). She has been a featured poet at a variety of venues and on radio and television. A recent collection of haiku, Blue Lacquered Dusk, was written to accompany photographs from a year's travel and study around the world with the International School of America in the 1960s. Her award-winning collection, Plumb Lines, was published by Plan B Press in 2008.

Rough Terrain
is a 40 page hand-stitched chapbook - $10.00
TO ORDER ON-LINE
From the US
From Canada
From Other Countries