Susan Edwards Richmond

Susan Edwards Richmond

INCREASE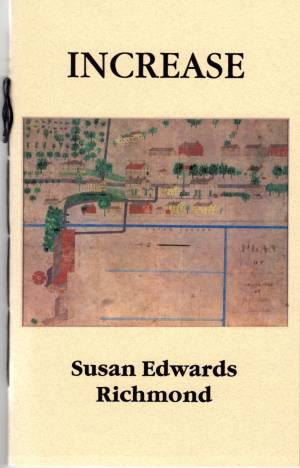 In 2007, I spent a year exploring Fruitlands in Harvard, Massachusetts, as the museum's first poet-in-residence. Of the many captivating exhibits, I became most absorbed by the Shaker collection, which was largely drawn from the neighboring Shaker community. Harvard was the second Shaker settlement in the United States and the first in Massachusetts. For many years, it was considered the spiritual center of the Shaker world.
The Shaker population in Harvard reached a peak of around 200 members in the 1850s, but membership dropped precipitously following the Civil War. In 1920, when the community closed, the Harvard Shakers sold their first office, built in 1794, to Fruitlands Museum founder Clara Endicott Sears. Ms. Sears had it moved to its present site on the museum grounds. In addition to an extensive collection of Shaker objects, Fruitlands has volumes of writings by and about Shakers, including the original journals written by members of the Harvard community from which the voices in this collection are drawn.
Shakers have no written creed but at various times throughout their history they have embraced certain beliefs and practices:
1. Duality of the Deity, composed of a male and a
female element
2. Ann Lee as the Second Appearance of Christ
3. Equality of men and women
4. Celibacy
5. Community of Property
6. Withdrawal from the World
7. Pacifism
8. Spiritualism
9. Open confession of sin
10. Worship expressed in dance and in march
-Fruitlands Museum, interpretive materials
From the book:
Foundation
I want to build a Shaker house,
nails for iron, rough-hewn boards.
None of this mortal soul-spinning.
When I tremble, let it be for God.
Plain cloth, plain words,
clean-scented as herbs
bundled and dried
on apothecary shelves.
Deadheading the Herbs
Squat at the center of the garden, I snip
the heads of fragrant towers,
cilantro, basil, oregano, chive,
burgeoning energies eager for flower.
An island scattering white and purple lattice
grows, feathery discards of desire.
Vigilance keeps an early bloom
from dulling flavor, tempting
plant to shoot up into weed. First
the leaves must deepen, spread
their enviable green, patient
for the pestle, the mortar, the oils, the wine.
Susan Edwards Richmond explored the history of the Harvard Shaker Community while poet-in-residence at the Fruitlands Museum. Her previous chapbooks are Purgatory Chasm (Adastra Press), Birding in Winter (Finishing Line Press), and Boto (Adastra Press). Her poems have appeared in numerous journals and anthologies including The Dire Elegies: 59 Poets on Endangered Species of North America. She has taught writing at the Shirley Medium Correctional Facility, located on the site of another former Shaker community, and is currently on the faculty at Clark University. Her interest in the intersection of art and nature is reflected in her work with Wild Apples: a journal of nature, art, and inquiry. She lives with her husband and two daughters in Massachusetts, where she enjoys hiking and birdwatching.
Increase
is a 36 page hand-stitched chapbook - $10.00
TO ORDER ON-LINE
From the US
From Canada
From Other Countries