Laura D. Nolasco

Ariadne of the Freezing Rains/
Ariana de las lluvias heladas
Laura D. Nolasco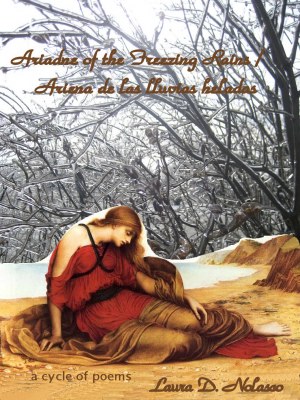 "Poet Muriel Rukeyser has said, 'What would happen if one woman told the truth about her life? The world would split open.' In Ariadne of the Freezing Rains, Laura D. Nolasco has done just that. Experience how an accomplished new poetic voice explores the intricacies of the human heart under assault, revealing how by the balm of language it begins to heal."
--Patricia Roth Schwartz, Planting Bulbs in a Time of War, and Other Poems (FootHills)
Lori Nolasco says "silence has never become me." Instead, she learned to speak, and speak ecstatically, in many languages: French, Spanish, Arabic, Italian, English. This book documents her intimate dance with the many cultures she has encountered and incorporated into her lexicon: Lebanese, Parisian, Dominican, urban American. An accomplished performance poet, Lori Nolasco here captures the energy of live performance while adding subtleties noticeable only in print (such as breaking words to follow a strict haiku form in "Everyone's Bonsai"). Full of music and sazón, these poems are brash and courageous, the poetic equivalent of "green fava beans and chicken liver covered in onions and minced garlic." As readers we are fortunate, indeed, that silence does not become her.
--John Roche, On Conesus and Topicalities (FootHills)
"In a high soprano voice, Laura D. Nolasco generates a topography of invisible genes, multicultural metaphors, and religious rumblings which culminate in arias of freedom, choice, and words which breathe oxygen into tired and oppressive stereotypes and traditions. She challenges women to nourish the natural instincts in their bones and experience the breath of the wild. Like Estes, her voice peaks in the branches of the bonsai tree, the wolves who run so fast that the desert shakes, and the blossoms yet to bloom in the sunlight of themselves."
--Dee Hogan, creator and coordinator of Write the
Night Away, an interactive creative writing workshop.
From the book:
¡Ay Mami! I Miss the Snow
for Chacha
¡Ay Mami! I miss the snow.
You say this is where I was born
but I remember evergreens.
They try to make me feel better
by showing me how the mangoes and guavas
fall right from the trees
and they let me pick the oranges and lemons
and help make juice from cherries and pears
and star-shaped carambola
but ¡ay Mami! I miss the snow.
The kids back in Queens are jealous
because it's summer year round here
but this is no camp.
I always have to worry
about killing mosquitoes
and when the lights go out
in the middle of the afternoon
there's no campfire
or toasted marshmallows
and no one's ever heard of s'mores.
They try to make me feel better
by telling me this is where I was born,
in Higüey, the town
of the Little Virgin of Altagracia.
But she looks so sad
with her huge crown
that's so heavy
it tilts her head to the side
and her folded hands
that make an arch.
Her eyes are closed
so how can she see
the Baby Jesus?
¡Ay Mami! I miss the snow.
They try to make me feel better
by showing me the biggest nacimiento
I've ever seen
with shepherds and Wise Men and angels
that are two feet high.
But I miss the jingle bells
and candy canes and red-suited Santas.
It isn't Christmas with palm trees
and parrandas and merengue and maracas.
It isn't Christmas without snow.
Born Lori Jean Dovidio to an Italian American family, Lori D. Nolasco uses the pen name Laura, a derivative of her given name and a salute to her heritage. She has lived in Paris, France, where she earned her Doctoral degree in Comparative Literature. The mother of two Arab American children, she has now embraced the culture of Latin America. Like Robert Frost's wife Elinor, her husband Ramón is the "unspoken half" of everything she writes.
Experiencing different cultures was always a reward for performing well academically. At age ten, Laura D. Nolasco was taken to local Chinese and Japanese restaurants, where she learned to use chopsticks and became so mesmerized by the hibachi-style cooking that she spent the entire time watching instead of eating. Travel also became food for the soul when she was offered a trip to Toronto, Canada at age twelve.
Laura D. Nolasco has taught French and Multicultural/World Literature at various colleges in the Greater Rochester area. This book is her first attempt at appeasing what Clarissa Pinkola Estés calls la hambre del alma (starvation of the soul) through the spoken word.
Ariadne of the Freezing Rains is a 76 page hand-stitched paper book with spine - $16.00
TO ORDER ON-LINE
From the US
From Canada
From Other Countries