Will Nixon

Will Nixon
Love in the City of Grudges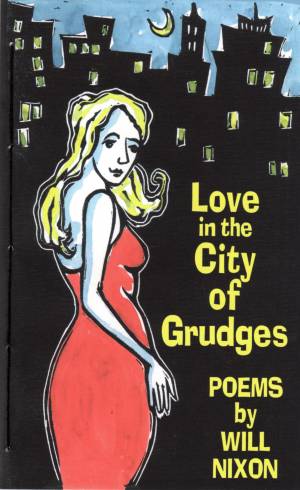 "Love in the City of Grudges is a poetic coming of age story that could just as easily have been called Family Life. The characters are familiar Dad, the unrepentant Dick Nixonite, Mom, a closet vermouth swilling alcoholic, the physically and emotional inert brother, and the hippie poet acting as narrator who has somehow found himself ensconced in Hoboken, New Jersey. Even the cast of the film classic Night of the Living Dead is an odd part of the extended family. Nixon's book is a rare combination of wit, horror, and insight that is at once amusing and emotionally satisfying."
--Alan Catlin, Near Death in the Afternoon on Becker Street
"If zombies take over the open mic scene all across America, we now know what poems they will be reading: Will Nixon's heart-rending, gut-splitting send ups of his family, life, and country people, `terrifying us by being so ordinary,' as horror show. From the first poem, `Saying Cheese, 1960,' Nixon has an uncanny power to reanimate the past, climaxing in the final section, `I Feed Her My Heart She Never Stops Eating,' in which the American family romance morphs into Night of the Living Dead."
--Barbara Louise Ungar, The Origin of the Milky Way
"Sparkling, shrewd accounts of a spell on earth by a verse diarist, Love in the City of Grudges is a history of our ordinarily harrowing lives dialed up to an exquisite poignance by Will Nixon's gifts of observation. We're embarrassed to smile, but page after page we do, proving we're not exactly of this place either."
--Djelloul Marbrook, Far From Algiers
"If one can imagine a book of poetry that is autobiographical but of a novel's sweep embodying mythic depths and heights, then Will Nixon's Love in the City of Grudges is such a book. The poet's voice journeying through these poems conjures up a WASP Odysseus from Connecticut sailing into America's nightmare hinterlands of the American Dream. This reader both cried and laughed out loud while being swept along by Nixon's heroic, ironic, bittersweet, sexy elegance of language. Keeping in mind `In the Time of the Gipper's' final lines, I say that Will Nixon's honesty has resurrected the country that so many of us want to know: Love refusing to be poisoned and stolen forever by `the City of Grudges.'"
--Susan Deer Cloud, The Last Ceremony
From the book:
One Night in Kingman, Arizona
On the bungalow motel's cave like stucco ceiling
lizards ran loose. A black-and-white RCA made
this evening's train wreck look like vintage history.
But we'd seen it for ourselves beyond city limits:
freight cars toppled down track embankments,
still coupled on their sides. Belly smoke rose
to shroud the moon, a coal-faced monk pondering
the damage. Small fires burned beside the tracks,
as if gypsies camped to scavenge after daybreak.
Chickens soldiered through our low beams
toward desert blackness. Defying cruiser tops
spinning red, we stoked our hash bowl, knowing
we'd never see such sights again. We'd heard
radio preachers warn the sky itself would burn.
Nothing shown on TV later could tame this land.
The Silent Majority
At dinner all my father discussed was politics:
Nixon, Lindsay, Nixon, Weicker, Nixon.
Never the Yankees. Never his day at the bank.
Definitely not the Page Six photos of hot pants
I'd seen in the Post he carried home from the train.
No, his face turned red, scolding me to appreciate:
Nixon was an honorable man. He'd worked hard
to overcome poverty, awkwardness, the snubs
of the lucky & suave. Sure, the President
had made mistakes. Wage & price controls
were bad economics, Watergate a festering boil
that should have been lanced before press jackals
ripped into his flesh. But Nixon had fortitude.
He understood our dangerous world. Study his book
-& my father could name all six of Nixon's Six Crises-
learn how character is forged: does a man risk all
when all is at stake? Or does he back down?
My father pounded the golden spike of his argument,
his forefinger up & down on the table.
At fourteen, I knew what he meant: no pot in the house,
Cs grounded me for a month. The Easy Rider poster
of Peter Fonda flipping the bird had better come down.
Frisbees were for druggies. So were hacky sacks.
Be a tackling dummy, my father admonished;
you're still on the team like Nixon was at fourteen.
For Halloween I wore Nixon's mask: penis-sloped nose
& lumpy ball jowls. "Let me guess," I told neighbors
who stood mute in their doors before my X-rated face.
"You're dressed up as the silent majority."
Through the President's eyes, I stared at Americans
forking out candy & UNICEF dimes. Behind me
zombies waited for a taste of their brains.
Will Nixon grew up in the Connecticut suburbs, lived in Hoboken and Manhattan as a young man, then moved into a Catskills log cabin in 1996. He now lives in Woodstock. His poetry books are My Late Mother as a Ruffed Grouse (FootHills Publishing) plus the chapbooks When I Had It Made (Pudding House) and The Fish Are Laughing (Pavement Saw). His poems have appeared in regional anthologies and dozens of literary journals. His work has been nominated for a Pushcart Prize and listed in Best American Essays 2004. His website is willnixon.com.
With Michael Perkins he co-authored Walking Woodstock: Journeys into the Wild Heart of America's Most Famous Small Town (Bushwhack Books), which expands upon their columns for the Woodstock Times. As an environmental journalist in the past, he was a contributing editor to the Amicus Journal, published by the Natural Resources Defense Council, and a special correspondent for the Adirondack Explorer. The website for Walking Woodstock is BushwhackBooks.com.
For their invaluable help in shaping these poems, Will Nixon thanks the late Saul Bennett, who still lives in these words, Alison Koffler, Nancy Graham, Hope Brennan, Leslie Gerber, Cheryl Rice, Marianna Boncek, and the Hudson Valley poetry community, which has been so supportive for many years. For background information about Night of the Living Dead, he consulted the Millennium Edition DVD of the movie plus The Complete Night of the Living Dead Filmbook by John Russo.
Love in the City of Grudges is a 96 page hand-stitched paper book with spine - $16.00
TO ORDER ON-LINE
From the US
From Canada
From Other Countries
************************************************************
as a Ruffed Grouse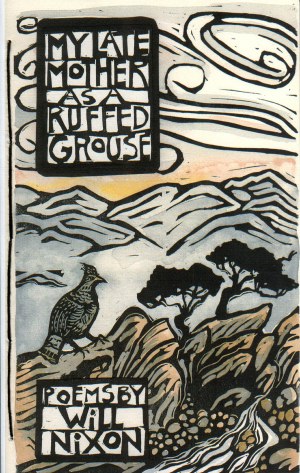 From the book:
My Late Mother as a Ruffed Grouse
-- Ashokan High Point, Catskills
Never before had a grouse failed to explode
from the underbrush with a wing-beating panic,
a feathered cannonball fanning a leaf-ripping tail.
But this bird didn't budge. It kept pecking
at leaf litter as methodically as a maid
checking under cushions for coins.
For several minutes, I focused my binoculars
on its lady-bug eyes, its black-banded tail,
but didn't want to spoil the magic by staying too long.
Bushwhacking through acres of mountain laurel,
I navigated tangled stalks like woody barbed wire.
Finally, a boulder ramp led me down to a clearing.
But which direction to the reservoir lookout,
rumored to lie east of the blueberry bald,
I couldn't sense any better than from above.
Behind me, I spotted the grouse half-sliding,
half-hopping on clownish chicken feet to catch up.
It stopped on the rock, cocked its head sideways,
then eye-balled me with an orange intensity.
Oh, yes, I remembered that look,
unblinking, undeterred, unashamed
of being in charge, yet being in love.
Could this bird really be my late mother?
At her burial last winter I scattered grouse feathers
to honor her passion as an Audubon birder.
Did I unwittingly plant the seed for her return?
Crippled by strokes, she lived so long in a nursing home
she had no idea I lived in a cabin, not Hoboken
or Manhattan. To her, I was always 23 and married,
for some unfathomable reason, to my cousin, Muggsie.
This grouse clearly knew what she wanted.
Softly she cooed and finally winked.
I murmured my best grouse impersonation,
eager to talk no matter what we happened to say.
I sat on the grass, an invitation she accepted
to prance close to my boots, cocky as a city pigeon.
For her country outing, she'd dressed
in subdued browns and whites, but make no mistake:
her feathered crest sharpened her head.
When her blinking turned almost flirtatious,
I lowered my eyes, apparently a fresh invitation,
for she paraded alongside my leg, pausing
every few steps to nip at a blueberry flower.
With my hands I could have cradled her like a dove,
cooing, content. Was that what she wanted?
Behind my back, she pecked at my daypack zipper.
How could I explain my bachelor's cabin,
the dirty socks from last week's hike still hanging
on the upstairs railing, the dirty dishes forever
crowding the sink? Did she think
she'd be satisfied eating seeds from a bowl
made of plastic and sharing my cold wooden floor
with the mice? Didn't she know
I could be arrested for bringing a grouse home
under the Wildlife Protection Act?
Did she know how rarely I swept?
No, I needed to end this strange encounter.
I stood and shouldered my pack, nodded good-bye.
But giant steps up the rock didn't do any good.
She hopped up her own crooked ladder
of laurel stalks, then paused at the next dirt patch
for me to catch up. How could I shake her?
Whenever I plunged in a new direction,
climbing and tripping through bushes,
she scampered nearby, easily low-hurdling
trunk tangles and roots. I barged like an oaf,
but she didn't act disappointed in me as a grouse.
She waited and cooed with encouragement.
Not until I broke loose on the blueberry bald
did she stop at the edge of her laurel protectorate.
Yet no matter how long I rested on the only boulder,
pretending to admire the quixotic flight
of black butterflies sampling blueberry nectar,
I knew she waited with unbending love and devotion
in the bushes I couldn't avoid to hike home.
My Late Mother as a Ruffed Grouse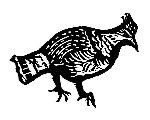 is an 88 page hand-stitched paper book with spine.
$16.00
TO ORDER ON-LINE
From the US or Canada
From Other Countries