Kitty Jospé

Cadences
Kitty Jospé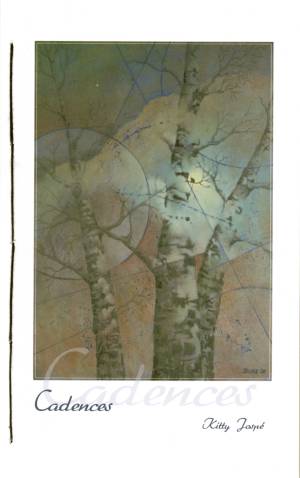 Poet's Statement
In music, cadences indicate whether the piece is to be continued or concluded. This book is both closure and continuation of cadences in the broad sense of the word. In the last days of my final residency of the MFA program at Pacific University, Ellen Bass shared the analogy of writing a poem as an offering of a pebble, humbly rolled towards the sacred altar of poetry. Although the poems selected for this first book may well clatter down the hill before they arrive half-way there, the act of writing and sharing them has given me a vision of the sacred space poetry embraces. The poems have traveled through seasons, dance steps, experiences and now breathe an Amen - So may it be - and now rest in this book.
All proceeds of this book will go to the organization Women Helping Girls , a program of the Greater Rochester Area Branch of the American Association of University Women.
It is my dream that all girls, particularly the underserved be given the chance to develop their voice and power. WHG emphasizes mentoring, a sense of community and positive interactions with peers and family and offers a series of activities and enriching experiences designed to broaden horizons, develop life skills, and reinforce the importance of education.
www.womenhelpinggirls.org
From the book:
Who Are You
Which sort of a body,
some body,
any body,
no body,
a part of a body of people
separated breath by breath,
a soft curve of a comma?
How different from the exclamation
Who do you think you are!
given by a jury of voices
arguing an ego's case.
It's a sentence that opens doors
to waiting rooms, wandering corridors
until the judge holds court.
Between the covers of your book
this unanswerable who
asks,
reads,
pulses,
pulls.
Calligraphy in Japanese Woods
Say these syllables,
ma tsu ka ze -
wind in the pines.
Ma tsu
ka ze,
a maple leans
against a pine,
tall, straight,
holding me
slant
against you.
Kitty Jospé French teacher, art docent, amateur musician with a passion for language, people and all the arts. She holds an MA in French Literature from New York University (1984) and an MFA in creative writing, Poetry, from Pacific University, Oregon (2009). She has collaborated as poet with PUSH Physical Theatre, local artists, Park Avenue Dance and has performed her poetry in many venues in and around Rochester, NY.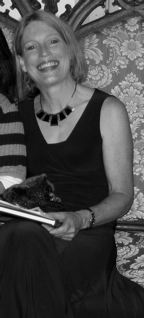 Cadences is a 64 page hand-stitched paper book with spine - $15.00
TO ORDER ON-LINE
From the US
From Canada
From Other Countries