Bobbie Panek

Morning Walks
zen meditations
observations by
Bobbie Panek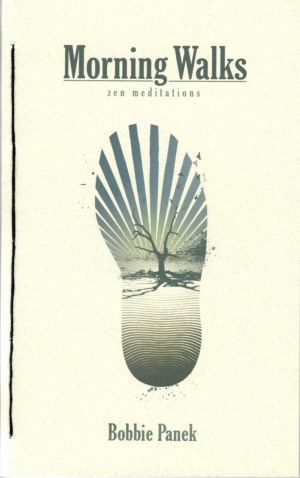 Reading and book signing
March 27, 2010
at Burritt's Cafe on (Rte. 34)
in Weedsport, NY
from 11 am -1 pm
Complimentery pastries will be served.
"Beneath the crisp, often playful images in Bobbie Panek's poems, the reader will find deep feeling and a strong sense of place. In the contemplative tradition of Blake, Dickinson, Hopkins, and Snyder, yet in a fresh, original voice, she explores the natural community where she takes her morning walks. Each poem sparkles; there are surprises in every turn."
--Maureen Kravec,
SUNY Empire State College
Mentor/Coordinator Watertown, NY
"Walk with this engaging poet as she explores what she encounters each day throughout a year traveling the same route: the birds, animals, trees, flowers, plants and people that greet her. This is a journey as well of the spirit and the heart. An accomplished craftswoman in the lyric tradition, Bobbie Panek is a poet to savor, one you will turn to again and again, season after season."
--Patricia Roth Schwartz,
poet, writer, teacher, workshop leader
"This collection of Bobbie Panek's beautiful and inspiring poems takes the reader along on a vivid, celebratory walk in nature, where senses come alive and beauty is found in all realms of life and death, overhead and underfoot… and always deeply connected with the Earth."
--John A. Eisler, Ph.D.
SUNY Empire State College
Associate Dean/Northeast Center
From the book:
INTRODUCTION
You learn to walk at around twelve months of age
You stumble, gain your balance, and reach for stability, while observing your surroundings
Occasionally you land on your butt
These pages represent my two-mile morning walk to work
feeling wind on my cheeks, hearing the crunch of small stones, smelling swamp water, witnessing life and death
seeing color, defined by an exact moment when the sun reflects off a sumac leaf or the wing of a
Canadian goose
walking primal one foot then the other, one foot then the other
a meditation, recognizing the earth underneath my feet
an intimate connection with the season and the changes
moment by moment, step by step, day by day, always changing
I'm about to share this connection with you
APRIL
She Was Blowing Trumpets
I searched for April this morning
Green tulip spears pushed her up
from slumber
I touched her slippery pink
apple-bud skin
Looked into her yellow
forsythia eyes
Found her cavorting
on purple crocuses
While hyacinths bathed her
in fragrance
April was blowing trumpets
She is so loud
Bobbie Panek is a writer and poet. Her poetry has been published in Sunshine, Many Waters, Magazines & Moondance on-line Magazine, and in the poetry anthologies: Common Intuitions and Remembering Faces. Her articles have been published in the following magazines: Birds and Bloooms, Reminisce Extra, and Journal for the American Society of Radiologic Technologists and published by American Mothers. Bobbie wrote a weekly/column for one year for Auburn's newspaper, The Citizen. One of those columns was included in Reverend Albert Shamon's book, The Power of the Rosary.
She worked for twenty-five years as a Radiologic Technologist registered in Radiography, Mammography, and Computed Tomography. She is currently a senior at Empire State College, graduating in June 2010, with a B.A. degree in Creative Writing. Bobbie is the chairperson of the Finger Lakes Writing Group.
She lives in central New York with her husband on a farm, where they grow many crops including sunflowers for inspiration. Their children and grandchildren bring them immense joy~ Please feel free to contact Bobbie at panekpoet@yahoo.com and check out her website at
www.bobbiepanek.com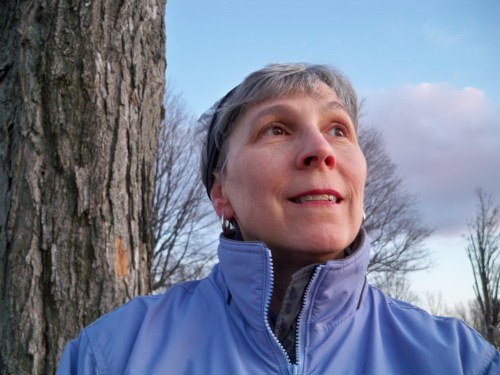 Morning Walks is an 88 page hand-stitched paper book with spine - $16.00
TO ORDER ON-LINE
From the US
From Canada
From Other Countries