Emily Vogel

Emily Vogel
Footnotes
for a
Love Letter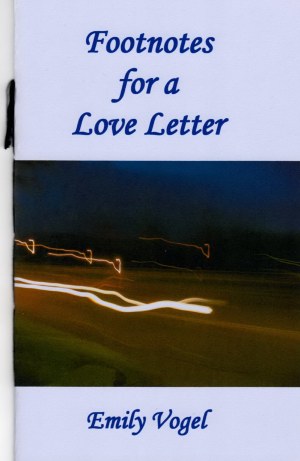 From the book:
Whatever It Was, Whenever It Was,
That It Went Unattended
Beauty is not an intentional experience.
When it strikes us, it's like a slant of light
that falls across the cheek, or the entire world
reflected in the surface of a lake.
The whispering grass makes gestures
it doesn't ask for in return.
Things go unattended.
Once every so often, we ushered two or three
handfuls of moments
like unrehearsed kisses along the air.
We took opportunities and made them weightless.
If there were olive trees, (though I don't remember),
we would have thrown ourselves
onto the ground beneath them.
What kind of excuse should I have
for that particular kind of love?
I didn't ask you to recompense a few careless afternoons.
I simply left them in boxes and prepared them for shipping.
My point is, there are plenty of reasons for why not
to disturb what isn't required. It would be gratuitous to list them.
Emily Vogel has been published in an anthology; Co-Evolution 2: Shivering Through the Details, with Turtle Ink Press, published by Salt Hill Press in Syracuse, NY, The Edison Review, Hotmetal Press, Main Street Rag, The Chaffey Review, Slush Pile, and on the WSKG website. She is the recipient of second prize for The Academy of American Poets competition at Binghamton University. She holds a Bachelor's degree in Independent Theatre Studies form Boston University, and a Master's degree in English and Theatre Education from New York University.
is a 32 page hand-stitched chapbook.
$8.00
TO ORDER ON-LINE
From the US or Canada
From Other Countries