Daniel Kerwick

Daniel Kerwick
You Stand

Alongside Desire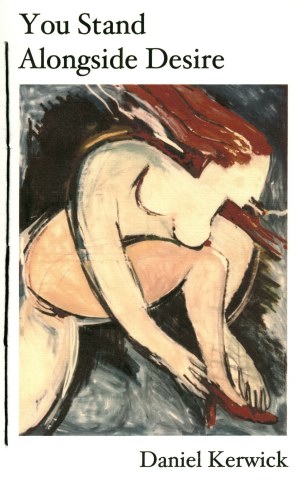 "The poems in Daniel Kerwick's You Stand Alongside Desire leap between worlds, making the invisible visible, recharging the familiar with the mystery we have either forgotten or never seen. The touch is light, but sure as we are moved by the poet from a point alongside desire, to it's very core. I salute Daniel for achieving a clear, affecting dialogue with time, place and psyche on the wings of eros that is deeply personal while reminding us of what unites us all.
-Paul Pines
author of The Tin Angel and My Brothers Madness
From the book:
5
you stand alongside desire
the city
the light in the wave of a hand
there is no mess thing this morning
prayers were said
a temple behind the eyes
doorways tremble the doorman smiles
a taxi glides past
and you swear a baby giraffe
is in it's way to first day of school
the city purrs
garbagemen are delicate baseball players
questions silent with benevolence
you stand alongside selves
invited to the garden
a turn along the avenues
blue horizon
I will try to recognize you
and failing
can still say hello
Raised in Rochester, NY, poet and playwright Daniel Kerwick has lived in New Orleans for more than twenty years. He is the founding editor of Simpatico Poets Press and artistic director of Simpatico Poets Theatre. His work has been presented in Chicago, New York, Los Angeles, Toronto, Portland, Oregon, Denver and other backwaters of North America. He is a frequent contributor to 'YAWP: a Journal of Poetry and Art' and his titles include "The Orchestra has left the Building' and 'Behind Lies the Sugar'.
You Stand Alongside Desire

is a 60 page hand-stitched paper book w/spine.
$14.00
TO ORDER ON-LINE
From the US or Canada
From Other Countries