Roberta Gould

Roberta Gould
Louder Than Seeds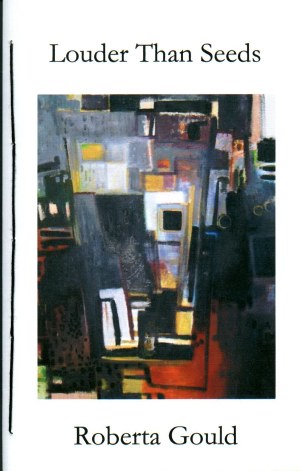 Cover Art by Mercedes Cecilia
....an array of evolving presences...a treasury of discovery and self reacquaintance
Donald Phelps
....this tension between the lyrical and the practical, the soaring and the quotidian give her poetry its arresting and archetypical energy
Stanley Nelson
....the beauty of Roberta Gould's poetry lies in its sensitive, uncontrived simplicity
Small Press Review
From the book:
Scenes

Green sky turned over
The rain fell
as it never had
Long battle you'd think
the drops were soldiers
this side and that side
killing then marched
proudly home
and the skull god beaming
But it was only the rain!
Fat water filling the mouths of petunias
the din of a June outburst
and not flag history
and not the spilling of blood
but the drenched flowers drinking
Roberta Gould's poems have appeared in literary magazines, anthologies, and web publications. She was the Editor of Light: A Poetry Review and Co-Editor of the N.Y. Poets' Co-op Anthology. Among her books are: Writing Air, Written Water; Only Rock; Not By Blood Alone; In Houses With Ladders; and Pacing the Wind. She studied in Mexico and has done educational work to promote responsible tourism. Currently, she gives readings, teaches classes in Latin American Poetry and is involved with the Haitian People's Support Project and other Latin American concerns.
Louder Than Seeds
is a 52-page hand-stitched paper book with spine.
$14.00
From the US or Canada
From Other Countries