Laura Glenn

Laura Glenn
I Can't Say I'm Lost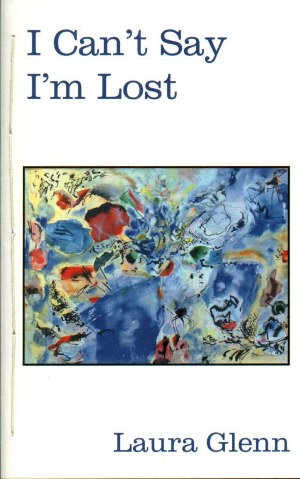 "Laura Glenn's intensely visual poems encounter the deepest
subjects--memory, perception, time, loss--with sensitivity and
wisdom. Full of vibrant color and details of nature closely observed,
attuned to questions of perception, proximity, and scale, their
sensibility is permeable, mutable. Reflections implode, the material
takes on immateriality, substance is seen as transient. No poet
better expresses the way in which our physical, literal position in
the world changes our perception of the world. The lens for this
knowing is at once compassionate and unremitting, vibrating with mind
and feeling, a vision so profound and riddling, I was reminded, at
times, of Dickinson. There are exquisite love poems and elegies that
make solitary grief less solitary: poems that console because their
vision is accurate and true--proportionate to misery as well as joy.
There's also wit and humor, as in the deliciously playful "Dressing
Up as Keats's 'To Autumn,'" and acknowledgment of the distractions
that interrupt experience. Laura Glenn is engaged with all it means
to be alive--right now, right here--and this quality of attention
gives her poems a thrilling depth. I was both impressed and
enthralled by work so equal to life's unsettlements and bliss."
--Alice Fulton
"As a poet-painter, my writing is often visually oriented regardless of subject matter. Though most of the poems in I Can't Say I'm Lost are not about art, the book is, in the words of poet David Weiss, "nicely punctuated with painting poems." These poems were selected from a much larger body of work-some are considerably older; some, for the moment, are recent; with a range in between. Many reflect ongoing concerns; others denote transience and change. Though the poems do not shy away from intense themes, my hope is that the reader will experience how, to quote from a poem in the book titled "The Well": "as layers of water displace layers, / a sense of well-being / arises from the mixing of self with self."
--Laura Glenn
Laura Glenn has published poems in many magazines, including The Antioch Review, Boulevard, Chelsea, Epoch, Green Mountains Review, The Massachusetts Review, Rattapallax, Poet Lore, and Poetry. She is a recipient of a CAP fellowship in poetry. Also a visual artist, she lives in Ithaca, NY, with her husband and son, where she works as a freelance editor.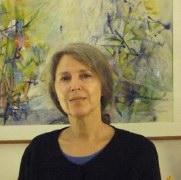 From the book:
Balancing Act
Life is always a tightrope or a feather bed.
Give me the tightrope.
-Edith Wharton
Unflinching, the parrot crosses the high wire
on a tiny bicycle, croaks out a song-
charms the crowd with panache.
The high wire's taut
as a one-stringed instrument. Why not
set it at the height of art
on the wall? Say, Paul Klee's
painting of a tightrope walker that hangs
across the room.
Klee lived in dangerous times.
All times are dangerous.
How then do I navigate
through this life
-balancing-
pen in one hand, paintbrush in the other,
over featherbeds and bed rock?
I Can't Say I'm Lost
is a 92-page hand-stitched paper book with spine.
$16.00
From the US or Canada
From Other Countries