Jones

LYNNEL JONES

ROCKS AND CRAZY PEOPLE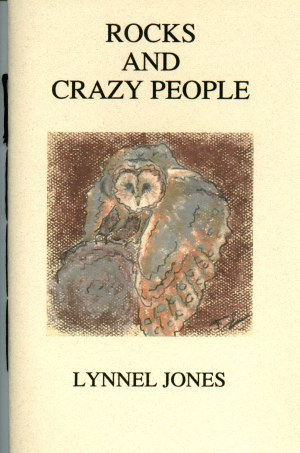 This is a marvel of a collection, the words deep-set, tamped into place, or else "sliced clean from the bone." Lynnel Jones makes astonishing poems out of narratives of staggering loss. Her poems recover the sensations of life lived to the hilt--with fidelity to the body and its power to endure, and to words and their power to redeem.
--Lee Upton, author of Undid in the Land of Undone
From the book:

FIRST QUESTIONS
i
Like yesterday: my mother's
Ponds Cream smell, the danger
from her pointed, polished nails,
the gasping as her 14 carat pen
sucks the inkwell dry.
ii
Rising from the watermark
satin pages of my baby book,
under Baby's First Questions:
"Where is God?"
"Where is Mrs. God?"
My mother's answer, "In heaven",
is framed by Palmer-prescribed
practice ovals. Never a cross-out.
A hell of a nerve!
Me here. And the Gods?
Away…safe…some place
I struggle to remember.
Sometimes I hear remnants
of them…moving their piano,
making it thunder.
Lynnel Jones holds degrees in English and education and advanced degrees in divinity and law. She is retired to the Pocono Mountains where she raises and shows dogs, gardens and writes. She has been a featured reader at the Firehouse Theater in Bethlehem, Pennsylvania, the Riverside Festival in Easton, New Jersey, the Greater Lehigh Valley Writers Group, and the Lehigh Valley Writers Academy. For the past three years she has been a guest lecturer in poetry at Moravian University Graduate School. Her poems have been published by Goose River Press, Points East Annual Poetry Review, The Lehigh Valley Literary Review, Flutter Poetry Journal and Watershed.
ROCKS AND CRAZY PEOPLE
is a 40 page hand-stitched chapbook.
$8.00
TO ORDER ON-LINE