Whittle

Emily Hayes Whittle
SHADOWS and LIGHT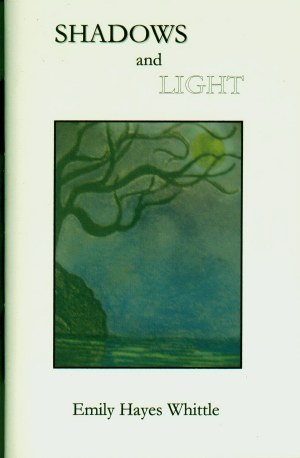 Poet's Statement about Shadows and Light:
I primarily see the poems in this collection as my struggle to find faith, sanity, and light in a world often veiled in shadows and darkness. Though many of these poems were born in shadow, hopefully, as a whole, light breaks through. I find light for my path through poetry, my family, and my Celtic Christian and American Indian spiritual inheritance.
Emily Hayes Whittle is a poet, mother, grandmother, and great-grandmother. She fell in love with poetry and the natural world as a child, began writing at an early age, and is an avid reader. She was born in Maplewood, Missouri, worked as an LPN in her youth, and began college when her three children were in elementary school. She currently lives with her husband in Reading, PA. Her poetry has been published in various literary journals including American Writing: A Magazine, Kalliope, Passager, Poetic Page, The Awakenings Review, and several of her poems have been translated into Japanese and appeared in three bi-lingual editions of The Plaza (Tokyo).
From the book:
BORN IN THE FLOOD
All day as my mother lay in labor
the river was rising.
From the window of the upstairs bedroom
my mother's eyes
gazed upon the turbulent waters
breaking the banks of the streets,
bursting through the doors and windows
of the lower story of the house,
bearing away the furniture of her childhood.
Foot by foot the waters quickened,
thumping up the winding stairway,
rushing into the very room
where she lay groaning-
cresting at the exact moment of my birth-
her head submerged in froth,
her mouth gasping as the water
cut her breath,
forced it back into my scant lungs-expanding-
I held it dear
as my small hands grabbed onto an old trunk, floating
as my small head rose above the white water….
SHADOWS and LIGHT
is a 40 page hand-stitched chapbook.
$8.00
TO ORDER ON-LINE