Mesler

Corey Mesler
Some Identity Problems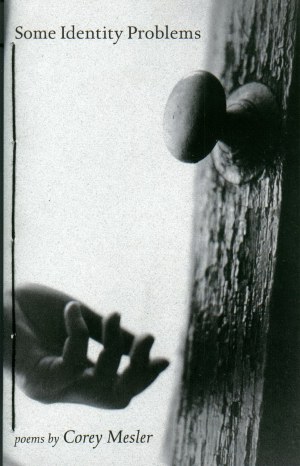 From the Book:
Fathers of Daughters
One of the things they
don't tell you
is that you will dress and
undress Barbie
thousands of times.
You will pull tight dresses
over impossibly
shapely hips, wrap bras
no bigger than wasps
over perfectly
mounded breasts, as hard
as algebra. They
don't tell you you
will suffer the feminine;
you will structure and
restructure it inside yourself.
And, if you spent enough
time there earlier,
when you were stronger,
it doesn't help.
They don't tell you
it will break your everloving heart.
About Corey Mesler's novel TALK:
"Talk is original and evocative. Mesler has a sharp ear not only for how we say things, but, more importantly, for what the words really mean."
John Grisham
COREY MESLER is the owner of Burke's Book Store, in Memphis, Tennessee, one of the country's oldest (1875) and best independent bookstores. He has published poetry and fiction in numerous journals including Rattle, turnrow, Pindeldyboz, Quick Fiction, American Poetry Journal, Thema, Mars Hill Review, Adirondack Review, Poet Lore and others. He has also been a book reviewer for The Memphis Commercial Appeal and Memphis Flyer. A short story of his was chosen for the 2002 edition of New Stories from the South: The Year's Best, published by Algonquin Books. Talk, his first novel, appeared in 2002. Nice blurbs from Lee Smith, John Grisham, Robert Olen Butler, Frederick Barthelme, and others. His 2nd novel, We Are Billion-Year-Old Carbon, came out in January 2006. It garnered praise from George Singleton, Marshall Chapman, Steve Stern and others. His latest poetry chapbooks are Short Story and Other Short Stories (2006), The Hole in Sleep (2006), The Lita Conversation (2006) and The Chloe Poems (2007). His poem, "Sweet Annie Divine," was chosen for Garrison Keillor's The Writer's Almanac. He also claims to have written "Gitarzan." Most importantly, he is Toby and Chloe's dad and Cheryl's husband. He can be found at www.coreymesler.com.
Some Identity Problems
is an 88 page hand-sewn book with spine - $16.00
TO ORDER ON-LINE