FootHills Publishing
|
home


John Low
Wild
Ephemera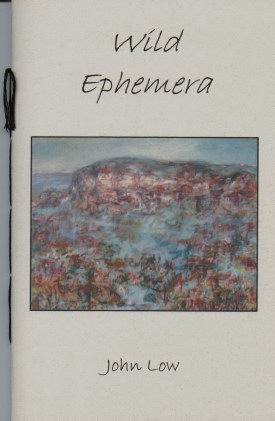 John Low was born and grew up in Sydney, New South Wales, Australia. Since graduating from Sydney University in the late 1960s he has worked as a high school teacher and librarian, mainly in rural NSW. In 1982 he came to the Blue Mountains west of Sydney where, for the past 22 years, he has been employed as a local studies librarian at the Blue Mountains City Library. The natural and human history of this striking `World Heritage' listed landscape of sandstone cliffs, valleys and waterfalls has had a lasting impact on his life and thinking. His poems have been published in a number of Australian literary magazines.
From the book:
SMALL THINGS

There's a time
when the remains of the day
cling to the sky like lichen
and currawongs sing,
ringing the cold air
before the light dissolves
in a silent torrent of blackness
consuming the hills and valleys
and all the wild ephemera of the world.
….
Swept in the currents
of half-light and shadow,
lantern eyes flickering,
their songs, sung for small things,
define the space
between ridge line
and sky.
ISBN 0-941053-54-7
Wild Ephemera is a 32 page hand-sewn chapbook - $8.00 US
Australian and New Zealand residents may order books
from the author if they want.
Contact John Low at:
39 Highland Street
Leura, NSW
Australia 2780
TO ORDER Wild Ephemera ON-LINE through FootHills Publishing
US and Canada click here
All other Countries click here