FootHills Publishing
|
home


Knocking on the Silence
An Anthology of Poetry
Inspired by
The Finger Lakes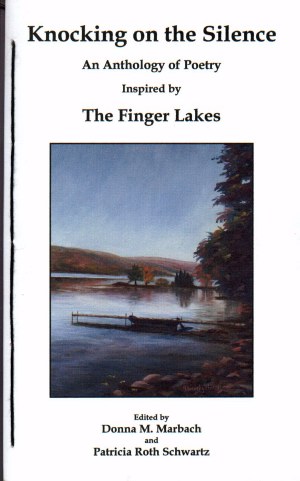 Edited by
Donna M. Marbach
and
Patricia Roth Schwartz

Cover art by Dorothy Harrison

*****************
Contributors
| | |
| --- | --- |
| Linda Allardt | |
| Karen Alpha | |
| Michael Arve | |
| Anita J.Augusen | |
| Ron Bailey | |
| Edith Bartholomeuz | |
| Bruce Bennett | |
| Louise Bennett | |
| Sarah Brinklow | |
| Ellen Clark | |
| Dan Cleveland | |
| Annette Corth | |
| Nick Di Chario | |
| Charlotte Jane Dickens | |
| David Dodd | |
| Daniel Donaghy | |
| David Flanagan | |
| Beth Flory | |
| Richard D. Forster | |
| Sheila Forsyth | |
| Christine Gelineau | |
| Gail Hosking Gilberg | |
| William Heyen | |
| Aku Lezli Hope | |
| Martha Horton | |
| M.J. Iuppa | |
| Pat Janus | |
| Frank Judge | |
| Ruth Kennedy | |
| Ruth Kessler | |
| Thomas Krampf | |
| Angela Krueger | |
| Gary Lehmann | |
| Anthony Leuzzi | |
| Gary Lisman | |
| Sonja Livingston | |
| Wendy Low | |
| Katharyn Howd Machan | |
| Donna M. Marbach | |
| Wynne McClure | |
| Susan McLeod | |
| Karla Merrifield | |
| Iris Miller | |
| Candace Mingins | |
| Rhonda Morton | |
| Martin Napersteck | |
| Howard Nelson | |
| Heidi Nightengale | |
| David Michael Nixon | |
| Maureen Owens | |
| Elizabeth Patton | |
| Colleen Powderly | |
| Helen Presberg | |
| John Roche | |
| Pat Roesch | |
| Liz Rosenberg | |
| Helen Ruggieri | |
| Lynne Rusinko | |
| Wanda Schubmehl | |
| Gerald Schwartz | |
| Patricia Roth Schwartz | |
| Robert P. Seigel | |
| Suzanne Slack | |
| Joe St. Martin | |
| Claudia M. Stanek | |
| Sally Steinmiller | |
| Bruce Sweet | |
| Dave Tilley | |
| Judith Trice | |
| Desire Vail | |
| Thom Ward | |
| Fran Weeks | |
| Paula Weld-Cary | |
| Leah Zazulyer | |

*****************
Listen Linda Allardt
The last leaves cut loose ahead of the wind.
Snow by nightfall. We'll be
islanded in silence by morning.
The summer's behind us at last-
a perfectly sensible search for land, we said,
but always something wanting-
home site, facing south-farm pond-view-
year-round road-room for barn and wood shop-
meadow enough to pasture horses-woods-
wanted most to be islanded in woods,
one woodpecker knocking on the silence,
old growth forest listening deep around us.
ISBN 0-941053-76-8
Knocking on the Silence is a 120 page
hand-sewn book with spine - $19.95
TO ORDER Knocking on the Silence ON-LINE