FootHills Publishing
|
home


In the Arms of Words: Poems for Tsunami Relief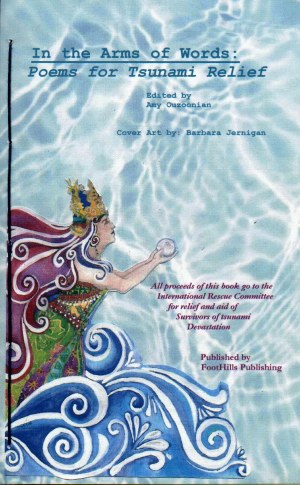 Edited by Amy Ouzoonian

Cover art by Barbara Jernigan

All proceeds of this book go to the
International Rescue Committee
for relief and aid of
Survivors of tsunami
Devastation
Praise for In the Arms of Words: Poems for Tsunami Relief :
The poems in this anthology demonstrate how a magnitude of loss can release great sensitivity and awareness. This requiem becomes an opportunity for examinations, interpretations and transformations in startlingly effective ways.
- Michael Hartnett, Poetry Editor for Confrontation
These poems speak eloquently of the sea's power to create and to destroy. Many poems here are quiet testimonials to survival, others roar: I am here!
-Theresa Williams, author of The Secret of Hurricanes, a novel
In this collection, a wide variety of vivid, poetic voices speak to an unspeakable tragedy, while simultaneously offering readers much-needed insight into the volatile mysteries of human nature and Mother Nature.
- Janice Eidus, author, The Celibacy Club
An overwhelming event merits an overwhelming response. And we find it here in this gathering of voices that fills in the silence after a devastation left the world at a loss for words.
- Rigoberto González, author, Skin Preserve Us
Contents

Foreword by Fatima Shahnaz




Law of the Ocean

Karla Linn Merrifield

The Upside Down River

Tad Wojnicki

January 1, 2005

Brett Axel

Untitled

Jörgen Johansson

Grace

Diane Ackerman

Spring

David Oliveira

She Wrote

Lois P. Jones

daughter sees blemish

Ray Craig

Untitled

Shin Yu Pai

After the Wave, Another: Nam Jai

Laurie Klein

So You Will Not Ask God Why

Chelle Miko

The Visible Ones "Eat Leaves"

Barbara Tomaine

Sensing Foreignness

Mary Strong Jackson

ellipses in the carpet

James Warner

Hollow Bones

Renée Roehl

What You Will Believe

Irene O'Garden

dinosaurs

Ameena Mayer

Stone

Lucy Anderton

Swim (Plivam)

Natasa Bozic Grojic

The Second, Vacation

Frank Simone

Shoulders

Naomi Shihab Nye

On the Path to Jericho

Helen Losse

Untitled

Andrew Riutta

`City of the Sea'

Fatima Shahnaz

Pain is God's Love

Maria Alexander

Floater

Gary Lehmann

Returning

Katherine James

Walking Through Fallen Berries

Tara L. Masih

Leaving

David Chorlton

post-diluvian

Steve Dalachinsky

By The Sky Rain Black Tears

(Del Cielo Llueven

Lágrimas Negras)

Iris Pérez Ulloa

Satellite

MaryJo Martin

The Great Quake of Sumatra, 2004

Valery Oisteanu

Nam Jai

Nick Carbo

Whatever the Sea

Anjana Basu

Heart

Sparrow

the many the few

Marcielle Brandler

The Dark Continent

Teresa White

Waterloo Village

Patricia Roth Schwartz

The Women Who Survived

H.T. Harrison

Plaint

Aleda Shirley

The Last Wave

Michael Hillmer

These Bones Remember

Anthony Russell White

Untitled

Jason Sanford Brown

Praying to the Gods

Thaddeus Rutkowski

Beyond This Breath

Victory Lee Schouten

Moving to Higher Ground

Colette Jonopulos

The Wall of Water

Lisa Ezzard

Miracle

Roberta Gould

The Slowly Disappearing Elephant in the Room

Alan Semerdjian

Flooding Heaven

Kirpal Gordon

Something for the New Year

Donald Lev

You See How It Happened

Laura Foley

Surrender

Scott Wiggerman The Moon on the Tsunami

Kate Gray

Gathering in the North Wind

Patricia Wellingham-Jones

Come Here. Take Heart

Verandah Porche

Tsunami

Carl Stilwell

total eclipse, new year: 2005

Eve Packer

What's Left

Taylor Graham

I've Come Down From the Peak

Roger Aplon

Shadows of Melancholy

Susan Norton

Wake Up, Little Sister

Ruth Knafo Setton

Curve

R.M. Engelhardt




The Orphans of Tangshan

Colette Inez

On Water

Rayn Roberts aftermath

Michaela A. Gabriel

A Dirge for Two-Hundred Thousand:

For the Tsunami Victims, 2005

Ravi Shankar

White Diamonds

Prasenjit Maiti

In the Arms of Water

Sharon Olinka

Disaster Relief

John Gorman

Follow the Directions on Page 226

Jennifer Hill-Kaucher

"Pass the Sugar"

Gregory Miller

The Moon Will Claim Me

Diane di Prima

While You Were Sleeping

George Wallace

Hush

Katherine Tracy

Bells for Mindfulness

Thomas J. Baier

For You

Craig Czury

Not Our Sea

Jennifer Browne

An Argument With Memory

Marge Piercy

Kaira Peace

Sung to Bob Holman by Papa Susso

unholy waters

Gerald Schwartz

It Was Apparent to the Orphans

Amy Ouzoonian

The Stream

Dale Edmands

We Were On a Train and the Train Screeched

Lyn Lifshin

Aftermath

Selene Steese

Untitled

Juanito Escareal

Crying in My Heart

Fofana M.L.

Basket of Figs

Ellen Bass

Untitled

Denis Emorine

translated by Pradip Choudhuri

Excerpts from "Justice Because"

Jesús Papoleto Meléndez

Clear White Stream

Marilyn Chin

Salomon Mercado

Nancy Mercado




In the Arms of Words: Poems for Tsunami Relief

If you would like to purchase a copy of In the Arms of Words: Poems for Tsunami Relief
please read the information below and check which edition you would like to purchase.
Sincerely,
Amy Ouzoonian, Editor
$30.00 Foothills publishing hand-sewn special limited print edition (numbered and
signed by editor: Amy Ouzoonian -- regular price). To be released 6/28/05
$20.00 (contributors) Foothills publishing hand-sewn special limited print edition
numbered and signed by editor: Amy Ouzoonian. To be released 6/28/05
$16.00 Sherman Asher edition - to be released in August 2005
$10.00 (contributor's) Sherman Asher edition - to be released in August 2005
$2.00 in shipping and handling.
A Gathering of the Tribes, Inc. has been kind enough to let me open an account to manage the funds for this project.
They are a non-profit arts and multi-cultural organization located in the lower east side of Manhattan.
When purchasing copies of the anthology, please make out checks to: A Gathering of the Tribes, Inc.
(and be sure to write "Tsunami Anthology" in the memo section of check.)
Mail payments and copy of this order form printed out to:
Tsunami Anthology c/o A Gathering of the Tribes Tompkins Square Station PO Box 20693 New York, NY 10009
All proceeds (after the cost of production) will go to the International Rescue Committee.