FootHills Publishing
|
home


Paul Martin
MORNING ON
CANAL STREET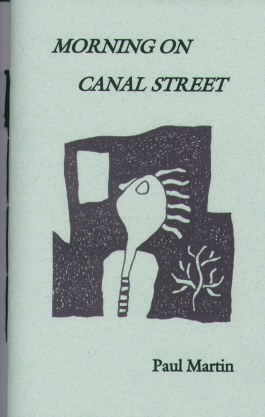 The son of Slovak immigrants, Paul Martin grew up in Walnutport, Slatington and Palmerton, small towns along the Lehigh River in eastern Pennsylvania. He has published two previous collections of poetry: Green Tomatoes and Walking Away Waving. The recipient of two poetry fellowships from the Pennylvania Council of the Arts, he has published widely in such journals as Boulevard, Commonweal, New letters, Nimrod, One Trick Pony, Poetry East, Southern Poetry Review, and Yankee. His full length manuscript, Closing Distances, has twice been a finalist in the National Poetry Series. He lives in Ironton, PA with his wife Rita.
From the book:
The White Bird
One of those drowsy summer afternoons
I wandered from my friends
down the dusty towpath farther
than I had ever been.
When I looked up, it was there
in the reeds, standing on one tall leg -
white, slender, soft,
motionless in the still water.
Across the clearest air I stared
at it. When I got back I told no one.
Opened, I began to move
through the confusion,
the loneliness
of growing up.
ISBN 0-941053-70-9
Morning on Canal Street
is a 24 page hand-sewn chapbook - $7.00
TO ORDER ON-LINE